Comment: What's a map worth? The big cost and bigger benefit of three-dimensional elevation data
by Danielle Woodring Friday, June 17, 2016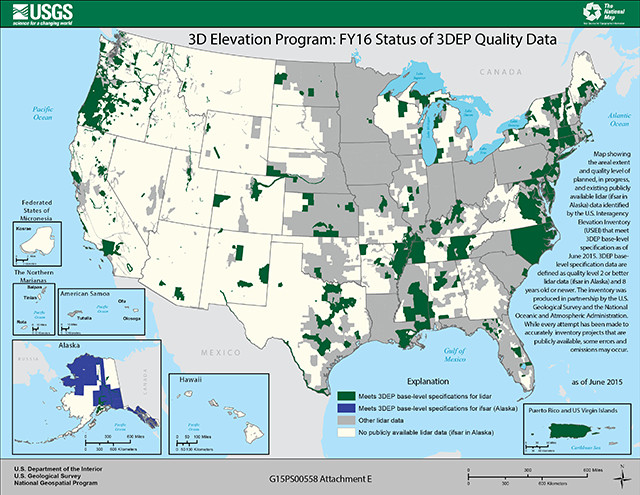 High-resolution topographic data are critical for a number of tasks — from managing flood risks to ensuring aviation safety to mapping hiking trails. In the past, such data came from careful analysis of aerial photos, but today, researchers have at their fingertips a suite of remote sensing technologies that can record ground-surface elevation — even when the ground is obscured by thick summer foliage, winter snow and ice, or dense cloud cover.
In 2011, the National Enhanced Elevation Assessment (NEEA), a study conducted by the U.S. Geological Survey and National Digital Elevation Program, identified more than 600 critical projects — across the public and private sectors — that would benefit from three-dimensional elevation data.
The outcome was the establishment of the 3D Elevation Program (3DEP), led by USGS, which is taking advantage of advanced remote sensing technology to create the first fully three-dimensional elevation map of the entire United States. Initiated in 2012, the collaborative effort among federal, state, local and tribal governments seeks to share the estimated billion-dollar cost of collecting the data over an eight-year period.
3DEP data are collected by light detection and ranging (lidar) and interferometric synthetic aperture radar (InSAR or IfSAR), which are capable of mapping large regions with centimeter-scale accuracies while also recording information about infrastructure and vegetation that is unobtainable with traditional stereo photogrammetry.
Lidar measures elevation from an aircraft by sending pulsed laser beams that bounce off Earth's surface and return to the aircraft. When the laser scans a swath of Earth's surface, these reflections can amount to millions of individual points, collectively known as a "point cloud." By classifying reflection characteristics of the point cloud, accurate surface models can be created: Digital surface models (DSM) depict the top-most layer of reflection surfaces like the tops of trees or buildings, and digital elevation models (DEM) indicate the bare-earth surface. Raw point-cloud data can be analyzed to estimate the shape and volume of buildings, the size and density of vegetation, and, if repeat scans are available, changes to Earth's surface.
InSAR relies on X-band radio waves emitted and recorded from an airborne platform to determine the distance from aircraft to reflector. This type of radar penetrates cloud cover, enabling it to be used in remote and challenging environments, like parts of Alaska.
The benefits of enhanced elevation data are numerous. For example, the NEEA study found that, with the application of new lidar data, the Federal Emergency Management Agency could significantly reduce the time needed to update its flood-inundation maps. More accurate flood maps would provide updated information to affected communities and homeowners more rapidly, benefiting customers of the National Flood Insurance Program. The collection of enhanced elevation data would also benefit the agricultural sector by improving precision farming. The accurate characterization of local topography can aid in the effective application of fertilizer, thereby creating cost-savings and reducing agricultural run-off and pollution. Enhanced elevation data also support natural resources conservation, natural hazard identification, accurate mapping of water supplies, wildfire management practices, geologic resource assessment, forest resources management, stream resource management and the improvement of aviation safety practices.
In Colorado, for example, a coalition of state agencies and county-level governments developed a proposal to collect lidar over seven counties in central and western Colorado. The data would be used to support a Colorado mapping program that uses numerical modeling and ground-based mapping techniques to assess areas that are prone to debris flows, landslides and flood hazards.
In California, in conjunction with the 3DEP initiative, the Department of Water Resources will this fall collect lidar data along the Sacramento-San Joaquin Delta, where 1,800 kilometers of levees critical to the Central Valley water supply require maintenance. The elevation data will help identify which levees are most in need of maintenance and determine suitable locations for habitat restoration projects.
In both states, the state and local constituencies will match funds allocated from 3DEP to perform the lidar surveys. Such partnerships are necessary to achieve the requisite funding. The 3DEP program — currently funded at $20.4 million annually — will need an increase of $29 million annually to meet the goal of complete coverage within eight years. As of 2015, three years into the program, only 3.1 percent of the U.S. — an area about the size of Nevada — had been surveyed with 3DEP-quality lidar and InSAR data.
According to the NEEA study, however, meeting that goal will be well worth the cost: The economic benefit of three-dimensional elevation data could be more than $1.1 billion annually. Furthermore, providing accurate elevation data to the public will benefit a wide swath of the U.S. private sector.
In President Obama's Fiscal Year 2017 budget request, the USGS received an increase of $2.4 million to accelerate the acquisition of lidar data and further engage 3DEP stakeholders. This budget increase is a step in the right direction, but to achieve 3DEP's goals, investments from all sources must continue to rise.