Comment: Pipe Dreams: What have we learned from the Volkswagen Clean-Diesel scandal?
by Russell Gold and Michael E. Webber Monday, November 2, 2015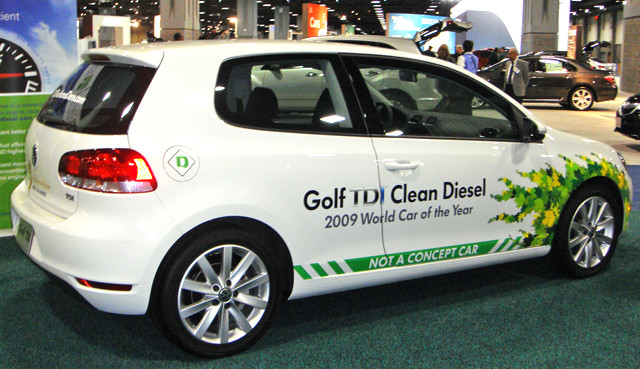 In the last couple of years, we both considered buying a Volkswagen. The company's "clean-diesel" cars offered great fuel economy and were fun to drive. We could go green without sacrificing performance.
Turns out Volkswagen was selling a fantasy. Their diesel engines were rigged with nitrogen-oxide scrubbers that would kick on during emissions inspections so the cars would pass the tests. During normal driving, however, the cars' computers switched off the nitrogen-oxide trap, allowing for more miles per gallon and zippy acceleration. This meant the cars also spewed higher levels of pollutants that contributed to urban smog and violated clean-air regulations.
We have yet to learn exactly why Volks​wagen installed this so-called defeat device. But the scandal has already provided important lessons about consumer behavior, markets and the temptation to cheat in this new era of environmental anxiety.
Increasingly, companies are being asked to meet societal goals for a clean environment while also satisfying consumer demands. This is a tough ask and could, unfortunately, make cheating more enticing. The market for green products is growing in importance and size. As this prize grows, so do incentives to dupe both consumers and regulators. The consequence of cheating is also growing: Volkswagen sold nearly 500,000 clean-diesel cars in the U.S. since 2008, and 11 million around the world. The cumulative amount of nitrogen oxides emitted because of this charade is potentially staggering.
The most important lesson from the Volkswagen scandal may be that when it comes to environmentally friendly products, consumers don't want to sacrifice performance. People don't want to accept a car with weaker acceleration, or a laundry detergent that doesn't clean as well. Volkswagen understood that and used it as a selling point. In a television ad that ran soon after its clean diesels were rolled out, Max, a talking Volkswagen Beetle, boasted about how the new VW Jetta got 58 miles per gallon, and growled "This baby hauls!" In response, a Toyota Prius owner sputtered that his car was boring and quiet. The message was clear: Although clean cars usually mean giving up on throaty engine performance to help save the planet, with the VW clean diesel, you could have both.
The marketing was part of Volks-wagen's campaign to become the world's leader in automobile sales. To sell a lot of cars, you need to promise excitement and fuel economy, while meeting governmental pollution limits. It isn't technically impossible — or even more expensive — to make a diesel that meets environmental standards. After all, the VW vehicles did pass the test when the scrubbers were on. The BMW X5 diesel also passed the same U.S. emissions tests. But the BMW's mileage is considerably lower than what Volkswagen promised because BMW's computers leave the tailpipe cleaners on when the cars are operational. The mileage of the Volkswagens in question also dropped when in compliance with emissions rules. Obviously, there are trade-offs.
Increasingly, consumers say they want to spend their money in ways that help the environment, whether it is on the car lot, in the aisles of a superstore or at their desks paying an electricity bill. Support for renewable-energy mandates is strong and growing. Interest in green consumer products is healthy. In the past few years, many surveys have suggested people are willing to pay more to protect the environment, but only to a point: Last year, 55 percent of consumers told a Nielsen global survey they would pay more, up from 45 percent in 2011.
This ratchets up the temptation for companies to falsely claim environmental benefits. Indeed, clean-diesel Volkswagen buyers paid between $1,000 and $6,855 more than buyers of comparable gasoline VWs, according to a complaint filed by the West Virginia attorney general, in the first of many expected legal claims on the carmaker. Buyers were attracted to cars that were sold as "environmentally friendly, fuel efficient and high performance." Consumers wanted to have their cake and eat it too.
This scandal demonstrates that if any innovator can deliver a clean, fast car with really good mileage, there's a potentially enormous market. That's one reason why investors are so bullish on Tesla Motors. It has shown that it can deliver an electric car that is fun to drive. If the company can reduce the sticker price on these cars, consumers will be lining up to buy them.