Comment: Making the first (and last) geoscience class count
by David McConnell Monday, December 11, 2017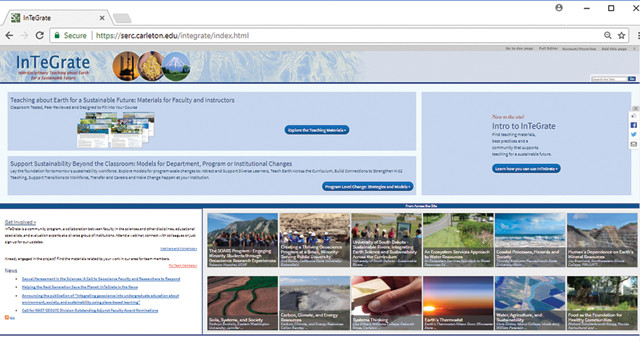 Imagine that no one had ever taught a general education geoscience course for college students, and that you were given the job of designing such a course from scratch. As you look around today, would your first reaction be, "We're going to need to spend three or four weeks talking about rocks and minerals"? Or would you be more inclined to discuss the challenges of addressing how the natural processes that sustain the earth system as we know it today — and that support our global community — are changing before our eyes? Not to be glib about it, but while geoscience educators go about our routine of presenting basic facts and concepts, we may be missing an opportunity to engage our students in more compelling conversations involving our science.
You don't have to look further than the news to recognize that many localities are ill-equipped to deal with natural hazards. Analyses of recent destructive events such as the wildfires in California, extreme flooding in Houston, hurricanes in Puerto Rico, Texas, Florida and elsewhere, and major earthquakes in Mexico all provide opportunities for students both to empathize with the people affected and to derive lessons useful in responding to similar future events.
And these are just the natural hazards. Let's not forget that human beings are part of the earth system, and that we can significantly impact our environment. Anyone reading this article is likely familiar with the greatest hits list of "grand challenges" that will confront our global population in the coming decades: the sustainable use of mineral and energy resources, the threat to coastal infrastructure from rising sea levels, and the effect of a warming climate and changing land use patterns on food and water supplies, for example. The impacts of these issues, and others, will become more acute as people migrate to the built environments of megacities. It's anticipated that fully two-thirds of the global population will be jammed together in urban areas by 2050, putting further stress on local environments and making it more difficult to manage responses to catastrophic events.
An introductory geoscience course — let's call it Geo 101 — may be the only earth science class many people ever take. As such, it can provide a venue to bring information about these grand challenges to a wide and diverse audience. Many of these issues are rooted in the geosciences, and Geo 101 can help students develop an appreciation for the global perspective, cultural sensitivity and scientific insight that inform decisions regarding the challenges humans will face in the future. We have to make the course count.
Such a class would help students build a foundational understanding of how the earth system works while also enhancing their ability to apply this understanding to complex and profound issues that link geoscience and society. Students (and citizens) who have opportunities to witness these links can then contribute productively to policy discussions at local, national and even global scales.
Adjusting how we introduce geoscience in the classroom can also have positive impacts in the near term. Students come to general education courses with an array of interests in and beliefs about science and its role in our world. Unfortunately, student attitudes toward science often become more negative as the semester progresses and as their notebooks fill with terminology and concepts that are disconnected from their personal experiences. While we personally may find the silica tetrahedron charming and important, it often proves less than inspirational for students taking what is commonly their first and last science class. To forestall apathy, or antipathy, toward science, we might be well advised to adapt our courses to present content in ways that help students see the relevance to their own lives and to society at large of the science and nature they're learning about in class.
One example of this approach that is readily accessible for instructors teaching introductory geoscience courses, and that has the potential to be adapted for the K-12 classroom, is the InTeGrate project (serc.carleton.edu/integrate), on which I have been one of the principal investigators for six years. This project — the result of a multiyear collaboration among hundreds of geoscientists — has developed, tested and disseminated a customizable suite of free geoscience educational resources to help students (and instructors) understand, plan for and contribute to mitigating the grand challenges to Earth's environment. The core idea underpinning these resources is to highlight connections between geoscience and society.
Each set of InTeGrate course materials follows five guiding principles: (1) Centers around a particular grand challenge; (2) Features interdisciplinary problems involving economic, societal and policy issues; (3) Incorporates activities that have students use authentic geoscience data; (4) Supports systems thinking by synthesizing concepts across different components of the earth system; and (5) Encourages the use of geoscience methods and the development of geoscientific habits of mind (for example, comparing how modern processes relate to those in the geologic past).
Anyone teaching introductory geoscience courses with titles such as Physical Geology, Earth Science, Environmental Geology or Environmental Science will find InTeGrate modules that readily align with topics presented in their textbooks. The big difference is the emphasis on getting students to draw connections between earth science and society. For example, activities in the InTeGrate modules present discussions of freshwater availability through the lens of environmental justice; have students complete a role-playing exercise to assess the relative vulnerabilities of selected schools to a future earthquake; reflect on the impacts of climate variability on past cultures; or analyze model results to predict how climate change in a particular region could influence soil erosion from agricultural lands.
InTeGrate materials are designed around measurable learning objectives, a collection of related assessments, and student-centered classroom activities. Essentially, we have tried to provide instructors with everything they might need to effectively teach lessons on an array of societally relevant topics that link strongly to existing curricula. We are focusing on materials created for use in general education courses, but many other InTeGrate modules and classes have been produced for use in other settings as well, such as in teacher preparation courses and for teaching about Earth in humanities and social science classes.
All of the InTeGrate materials are designed so that they can be readily deconstructed into their independent parts and reconfigured with local examples and activities to suit the specific needs of an instructor. We are moving rapidly toward a future in which instructors will have opportunities to utilize freely available online resources to curate their own unique course to fit the needs of their students and their locations. We hope that the InTeGrate resources, and other educational materials like them, will provide coming generations with the information and skills necessary to live sustainably on a changing planet.