Comment: Learning "Minecraft" as a forty-something proves the game can be an educational tool for all ages
by Michael E. Webber Thursday, November 8, 2018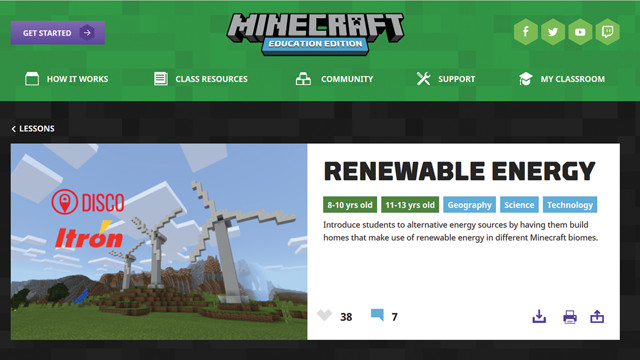 "Minecraft" is an insanely popular game. By 2018, more than 140 million copies had been sold, making it the second-best-selling video game in history, after "Tetris." First released in 2009 by the Swedish game developer Mojang, the popularity of the sandbox-type game — so-called because it allows players to build unique structures and environments within different worlds — grew rapidly. In 2014, Mojang was acquired by Microsoft for $2.5 billion.
"Minecraft" has lesson-based, interactive and creative elements, making it a useful teaching tool in schools. Because the game is inherently about resource extraction and management, it's also a natural platform for teaching lessons about energy and the environment. That's something I know more than a little about: I have been teaching those topics to diverse audiences globally through my online courses, books and websites for years. In 2016, I developed an online interactive curriculum on the topic of energy and water based on materials from my book "Thirst for Power: Energy, Water and Human Survival" through a partnership with Itron, a technology company that helps users manage energy and water systems, and DISCO Learning Media, an educational technology startup I co-founded. The curriculum, called "Resourcefulness," is available to K–12 students worldwide at www.stem.guide.
While "Resourcefulness" has received positive feedback, it doesn't have the global reach that "Minecraft" has. But they share similar goals — educating the next generation about the most pressing problems in society, which relies on creativity and collaboration. So when Microsoft approached us about integrating some of the educational modules from "Resourcefulness" into the "Minecraft Education" edition to teach students about alternative energy, I jumped at the chance to partner on this project. There was only one problem: While I was vaguely familiar with "Minecraft" because of its cultural ubiquity, I had never actually played it. Honestly, I haven't really played a video game with any regularity since struggling through "Pitfall" and "Space Invaders" on my childhood friend's Atari system in the 1980s, followed by a brief relationship with "Tetris" in the mid-1990s. Suffice it to say, I am bad at video games. But for this partnership with "Minecraft," I was determined to give it a try. I did what any professor seeking to gain new expertise would do: I asked for help from an expert. In my case, that expert was my 12-year-old son, Maverick.
I asked him if he would teach me "Minecraft," and his eyes lit up. No doubt the role reversal was enticing — he would be the master and I the pupil, after all — but it also gave us an excuse to share his passion for video games.
First Training Session
"Minecraft" is available on many platforms, so the first dilemma was figuring out which platform to use. A laptop? If so, Windows or Mac? A tablet? If so, iPad or another? A game console? If so, Xbox or PlayStation? The options are myriad. Maverick wisely navigated this decision by suggesting we conduct the first training session at the local mall, which has a modern arcade with a bank of big screens, rows of leather recliners, Bluetooth headsets, and an abundant supply of Xboxes with a full catalog of games. So off we went.
We asked the store clerk for side-by-side recliners loaded with two games: "Forza Horizon 3" — a fast-paced car racing game — and "Minecraft." He looked at me and grinned, saying I was going to love the high-speed racing effects, assuming the action game was for the adult and the kid's game, well, was for the child. I didn't even understand what he was talking about and grinned blankly. Maverick intervened on my behalf, sheepishly informing him that "Minecraft" was for his dad and the action game was for him.
We sat down in our recliners and Maverick gave me a basic tutorial on navigating the "Minecraft" world: how to look around, move and carry out basic actions like mining and building. Rather than play in "survival mode," we started in the more forgiving "creative mode," in which there's no risk of death, resources are unlimited and travel is easy. Then off I went. He got lost in his game, and I got lost in mine.
I didn't know what I was doing. Everyone else at the arcade was focused on their own games, yet somehow, I felt like they were all laughing at me, as my inability to do anything interesting was spectacular. Along the way, I found the experience of moving through these different worlds dizzying, yet meditative.
It was remarkable how few of the game's features I mastered in an hour. Maverick was stunned; I was embarrassed. It turns out an older, slower brain and fat, clumsy fingers make a bad toolkit for video games. After an hour of confusion, all I could do was dig and awkwardly steer my character.
Second Training Session
Looking to avoid the public shame of the mall, I bought an Xbox so I could train in the privacy of my own home. My son canceled his plans to play multiplayer games with his friends, telling them he had to teach his dad how to play "Minecraft." I could hear his friends' confusion.
As in real life, in "Minecraft," you can build or destroy. And there is an extensive inventory of instruction sets and plans, as well as the necessary tools and parts — an apt analogy for creating anything in real life. The nuance of this pixelated otherworld finally began to dawn on me.
During this second session, I improved at moving my character and built a basic perimeter of fences for an imaginary corral for imaginary animals. I discovered it was pleasant, in a surprising way, to walk through fields, valleys and mountains, even if they were imaginary. But I was still essentially incompetent. My son gave polite, but accidentally patronizing compliments like "You can do it, Dad!" and "Good job!" — mimicking my own tone from when I'd taught him some new skill years earlier. I didn't realize he was listening so carefully.
3d Training Session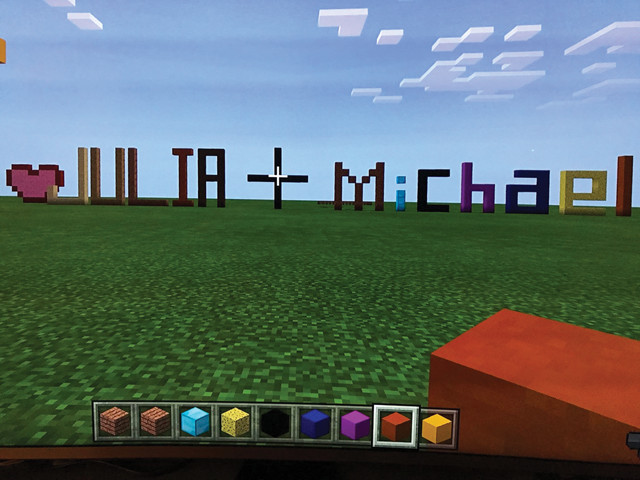 Maverick gave me another tutorial on movement and on how to use the materials in my "hotbar," a toolbar that displays the most-used items in the game — for example, wood planks, concrete, diamonds, mortar and sponges in an attractive range of colors. This time I was determined to build something. Anything.
I have four college degrees, yet the combination of buttons, triggers, toggles and joysticks confused me. It took me 45 minutes to spell out my name, and Maverick's politely patronizing compliments transformed into open mockery with comments like, "How is it possible for you to learn so slowly?"
He then said, "Sometimes it's easier to build up a solid block of material and then remove the parts you don't want," intuitively sharing a basic lesson from machine shops about how to build using subtractive manufacturing. This virtual world is teaching real-world lessons about construction and destruction, I realized.
Education Through Gaming
Although I'm still not proficient at playing video games, I am now a fan of them in way I hadn't expected to be. As in real life, we can continually improve skills through discipline and training — just like I always told my kids. Also as in real life, we can choose to leave nature alone, or shape it to meet our desires, with all sorts of trade-offs revealed along the way.
Through this, I've become convinced that "Minecraft" can indeed be a powerful teaching tool. The "Minecraft Education" edition is an open-world environment that can engage students to create their own lessons and learning environments while collaborating to solve real-world problems. Teachers can download lessons for a variety of grade levels in math, science, history, language arts and visual arts, or create new ones. It's no surprise that it has already been used by more than 35 million teachers in 15 countries.
Microsoft has found a way to promote education through gaming, which is a boon for students of all ages. Just ask a room full of students how many have played "Minecraft" and you will be blown away. The reach is incredible.