Comment: Kitchen counter geology: Bringing rock identification to a new audience
by Karin Kirk Monday, May 15, 2017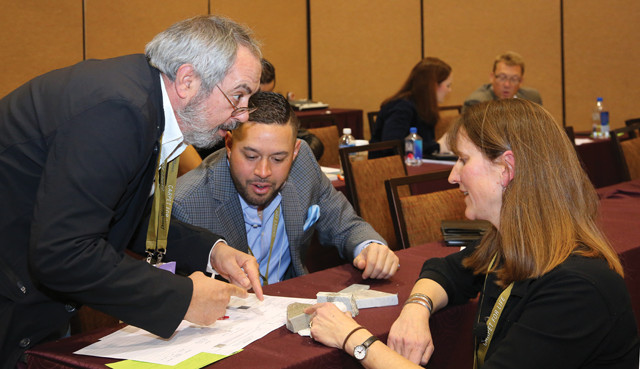 As I hoisted my 22-kilogram suitcase onto the scale at the airline check-in counter, the agent joked, "Whatchya got in there, rocks?" We both got a good laugh when I explained that, yes, indeed, the suitcase was completely full of rock samples. I was on my way to Las Vegas, with an entire geology lab in my luggage.
Sharing geology with students is always fun, but I was hitting the road to bring rock identification to an entirely new audience: countertop fabricators, kitchen designers, architects and sales staff in the decorative stone industry. I was headed to the International Surface Event, a trade show of dizzying proportions that promotes floor coverings, natural stone and tile. The event draws tens of thousands of participants, offers more than 50 professional development courses, and takes over a 40,000-square-meter indoor expo area gleaming with all the latest design trends.
My trip was the culmination of a year's worth of work with the natural stone industry to bring geologic insights and education to their trade. In the midst of my own kitchen remodel, I learned how much the naming conventions for decorative stone depart from the traditional geologic approach. I bet I'm not the only geologist to protest when shown a slab of sleek, black "granite" in a showroom. Gneiss, schist and even sandstone also fit under the umbrella term of "granite" in the decorative stone trade. But does it matter if a stone is called granite, gabbro or "Verde Butterfly"? In many cases, the geologic accuracy of industry designations is not critical. There's little practical need for salespeople and customers to understand the difference between diorite and gneiss when, as countertops, the rocks behave similarly.
But it does matter when different rocks have different properties that could come into play in a home. Homeowners need to know what to expect when using natural stone in their kitchens or bathrooms. When I saw a social media post about a newly installed "quartzite" countertop etching from vinegar, I was astonished to read that the owner was contemplating covering her entire countertop with plastic wrap. Clearly, something had gone wrong here. Vinegar can't etch quartzite — that's impossible. How did this customer end up with a product that failed to live up to its name? A little digging revealed a widespread problem with identification and labeling of quartzite and marble. These two rocks often look alike, but they behave quite differently. Some stone dealers had come up with the unfortunate term "soft quartzite" to try to explain why a rock labeled as quartzite did not actually have the properties of quartzite. Soft quartzite, in fact, is actually marble. A routine hardness test can differentiate them. Geology could help clear this up.
I reached out to an industry trade group, MIA+BSI: The Natural Stone Institute, which provides education and professional development to the natural stone industry, and offered to help their members learn more about stone identification. I started giving webinars and writing articles for the institute, while also answering countless consumer questions online. The fun of this was in bringing geology to an audience that greatly appreciated it. At heart, we are all rock enthusiasts. Sharing a geologic approach has resolved vexing mysteries in this community, while also helping instill a sense of how various stones formed and what factors influence their suitability for different uses.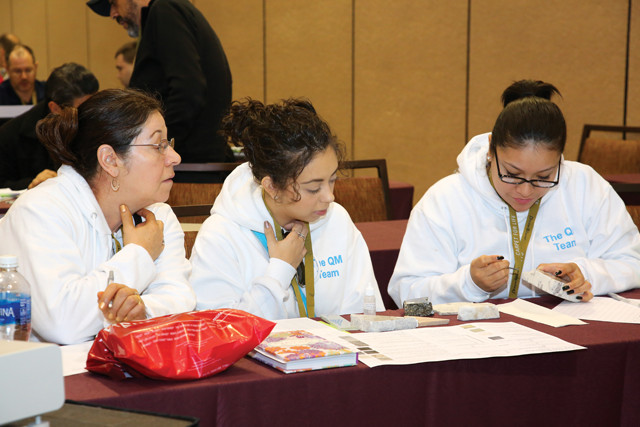 The feedback has been promising. Amy Oakley, communications manager for MIA+BSI, writes: "One of the main goals of MIA+BSI's Natural Stone Promotional Campaign is to 'tell the story' of natural stone. We tend to think mainly of the end product — stone slabs and blocks from quarries. Karin's articles have reminded us that each stone contains millions of years of geological history. This is something that has greatly resonated with our readers, whether or not they are familiar with the stone industry."
The Las Vegas trade show gave me the opportunity to bring a hands-on geology lab to this unconventional audience. More than 100 people from many different lines of work in the stone industry signed up to learn how to identify rocks.
The workshop followed the same format as the basic rock identification lab for introductory geology students. Participants had glass plates, nails, magnifying glasses and dropper bottles of dilute hydrochloric acid. A flowchart guided them through simple diagnostic tests on each rock sample. The samples were polished slabs of rocks that are common in the commercial trade. The answer key contained the geologic name (e.g., granulite), the industry name (granite) and the trade name (Bianco Romano) for each sample.
I was unsure if the participants would be willing to use an investigative approach in the workshop. In many trade show settings, people are used to sitting in a room and passively hearing information. But when I invited attendees to come to the front of the room and take some rock samples to work on, there was a mad rush for the rocks.
We spent a fast-paced 90 minutes learning how to test hardness by scratching rocks samples on glass plates, watching acid fizz mightily on travertine, and sussing out the differences between quartzite and marble. We even delved into identifying more subtle rock properties, for example, by examining a dolomitic marble breccia that contained small amounts of quartz. Tricky rocks like this, which don't fit neatly into well-known groups, are difficult for commercial operations to classify, which can lead to inaccurate labeling conventions.
At the end of the session, the conference room was properly messy, and people were eager to bring their new skills back to their shops and showrooms. One participant was astonished to learn that there is no such thing as soft quartzite, and I helped him revise his sales pitch about quartzite and marble.
I was thrilled that the geology lab was such a big hit. Participant evaluations confirmed my suspicion that, while not everyone expected a lab-like workshop ("Didn't really come for a lab, more or less just info to take home, good addition though."), most people appreciated digging into geology. ("The hands-on portion was very interesting and fun!" "This course should be mandatory for all MIA+BSI members.")
My goal is to empower salespeople, dealers and fabricators to know more about the products they sell. In many cases, vague trade names are the only information provided to showroom staff. I want to equip them to be able to see for themselves what a given rock is or is not. This will mitigate an overreliance on trade names and word-of-mouth information. Furthermore, the industry can gain a greater appreciation for the wonders of natural stone, not just as a trendy design material, but as the result of earth processes that unfold over geologic time.
I never anticipated that basic geology lessons could prove so helpful and appreciated. The next time you visit a natural stone showroom and ogle some stunning slabs, try engaging the salesperson about the geologic history of the products they're pitching. You may find yourself immersed in an unexpectedly rewarding conversation.