Comment: GAVRT: Learning science by doing science
by Steven M. Levin Tuesday, April 19, 2016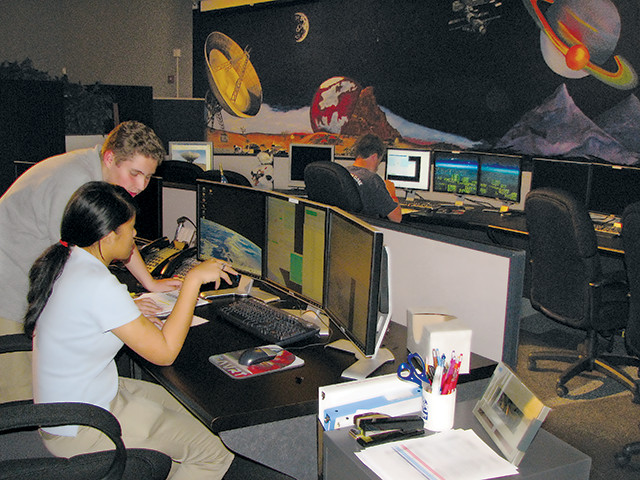 Science education is very much a part of the lexicon of K-12 education these days, and numerous STEM (Science, Technology, Engineering and Mathematics) initiatives are underway in schools across the United States. Nonetheless, most students get very little exposure to doing hands-on science, and virtually no exposure to the ways in which scientific research is actually done. The Next Generation Science Standards calls for increased emphasis on observation, analysis and prediction, but currently, most pre-college science education involves memorization of a collection of facts. Emphasis is more often placed on the results of science, not the process for arriving at those results. A partnership among NASA, the Lewis Center for Educational Research (LCER) and the Jet Propulsion Laboratory (JPL) is working to provide one alternative: The Goldstone Apple Valley Radio Telescope Program (GAVRT) — a collaboration in which K-12 students learn about science by doing real science.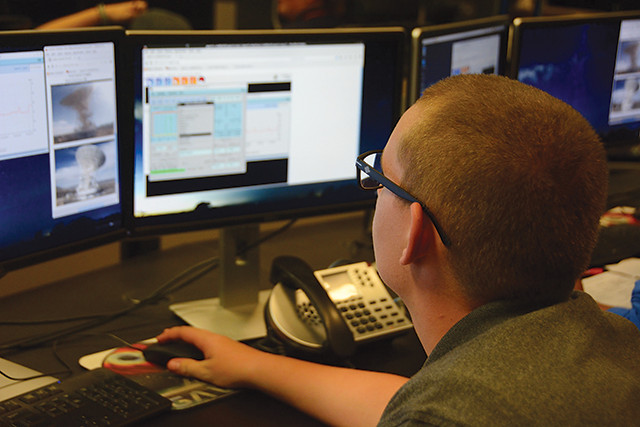 GAVRT began in 1996, when NASA decided to retire the 34-meter-diameter radio telescope called Deep Space Station 12, or DSS-12. Located in Goldstone, Calif., the venerable DSS-12 had served the nation well since 1961, communicating with numerous spacecraft as part of NASA's Deep Space Network (DSN). Rick Piercy, an elementary school teacher and founder of LCER, suggested that NASA give DSS-12 to the school. The telescope is far too big to transport and the logistics of sharing it were formidable, but NASA, JPL and the DSN liked the idea of sharing it with students. Mike Klein (manager of the DSN Science Office) and Piercy began a partnership that ultimately became the GAVRT project.
The old DSS-12 radio telescope has since been retired, and the GAVRT project now uses two 34-meter-diameter radio telescopes: DSS-28 and DSS-13. DSS-13 is the research and development telescope for the DSN, and GAVRT students use it frequently but must compete with other users for time on the telescope. DSS-28 is dedicated for use by the GAVRT project, and was refurbished to provide state-of-the-art capability for student science campaigns. Both telescopes are high-quality instruments that enable the students to do valuable scientific research.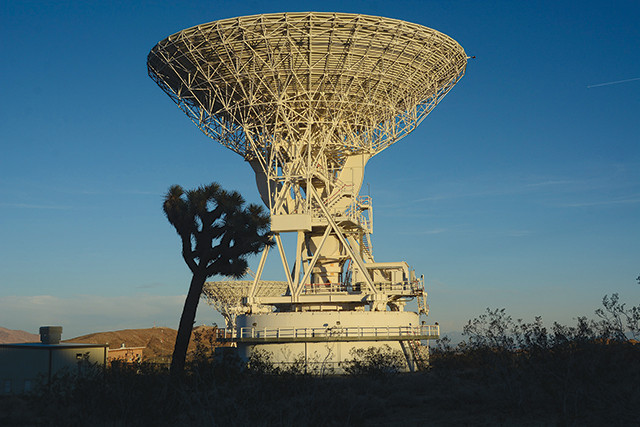 With the help of people and computers at LCER, students from all over the world can operate these telescopes at NASA's Deep Space Communications Complex in Goldstone. Students participate in science campaigns with scientists from JPL and around the world, collecting and analyzing data to make a significant scientific contribution. The ground rule for a GAVRT science campaign is that it has to provide both valuable science and a valuable educational experience for the students.
Over the years, GAVRT students have contributed to a variety of science campaigns, including observations of various astronomical objects as well as support for NASA missions. Students have helped characterize potential Mars landing sites, calibrate the radiometer on the Cassini spacecraft, track the LCROSS spacecraft to the moon, and have participated in joint observations with the Spitzer infrared space telescope.
GAVRT currently operates three science campaigns:
Jupiter Quest is a campaign to measure the radio brightness of Jupiter at microwave frequencies. The radio emission comes primarily from high-energy electrons in Jupiter's radiation belts, and the measurements support the Juno project, a spacecraft that will arrive at Jupiter in July 2016. Juno carries a six-channel microwave instrument to measure the Jovian atmosphere and radiation belts, and the GAVRT observations provide valuable context for the Juno measurements, as well as improved understanding of the radiation belts, which are potentially hazardous to the spacecraft.

Black Hole Patrol is a campaign to monitor radio emission from quasars, which are black holes at the centers of distant galaxies. Working with David Jauncey of the Australia Telescope National Facility, students use the GAVRT radio telescope to collect data from a set of quasars, collectively monitoring the variability of the quasars and the interstellar medium that lies between Earth and the distant black holes. Depending on grade level and other factors, students participate in the data analysis in addition to data collection.

In the GAVRT SETI campaign, students work with JPL scientists to search our galaxy for signals of intelligent extraterrestrial origin. Students select a patch of sky to be scanned and run the telescope in an automated search pattern. They then analyze the data, eliminating radio frequency interference from local Earth-bound sources and identifying receiver noise. For each patch of sky observed, the students produce a list of candidate signals. These lists are then compared with previous and future observations of the same patch of sky to look for matches, which could potentially indicate signals of extraterrestrial origin.
To participate in GAVRT, interested K-12 teachers either receive three days of training in radio astronomy at the GAVRT facility in Apple Valley, or complete online training, in addition to working through a "Basics of Radio Astronomy" downloadable workbook. Once they've been through the training, GAVRT teachers schedule telescope time in advance and their students connect to LCER via telephone and computer. LCER telescope operators can see the students' computer screens while talking with them on the phone, and supply guidance as needed. Students as young as 5 have run the telescope, but most GAVRT students are in middle or high school. Campaign scientists interact with the students via email and occasional teleconferences or classroom visits, and work closely with LCER operators and teachers to help ensure both data quality and educational value.
For more information about GAVRT or to participate, see www.lewiscenter.org/Global- Programs/GAVRT/index.php or http://deepspace.jpl.nasa.gov/education/gavrt.