Colorado River Basin sees severe groundwater depletion
by Catherine Hudson Thursday, September 25, 2014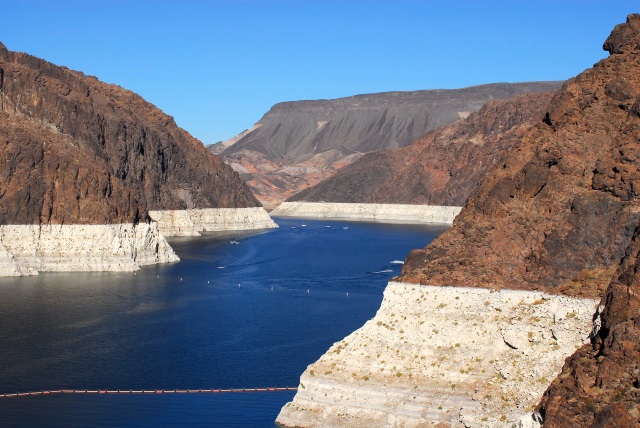 Over the past 14 years, the Colorado River Basin has experienced its worst drought since precipitation records have been kept, starting in the 1960s. The basin supplies water used for agriculture and in households in seven states, affecting more than 40 million people. In a study recently published in Geophysical Research Letters, researchers have found that the reservoirs that store water in the basin are at record low levels. What's more, the research shows that in addition to shrinking reservoirs, groundwater is being depleted much faster than previously thought, which could have major implications for the region's future water security.
During the recent severe drought, reservoir volumes throughout the basin have been closely managed to maintain surface water demands, and many past studies have focused on the two main reservoirs serving the Colorado River Basin: Lakes Powell and Mead. But little effort has focused on groundwater supplies accessed as supplemental sources during drought, and current groundwater withdrawals in the area have gone undocumented, according to Tom Gleeson, a hydrogeologist at McGill University in Montreal, Canada, who wasn't involved in the recent study. "Previous estimates," he says, "have suggested very limited groundwater depletion in the last 10 to 20 years."
Researchers used data from NASA's twin Gravity Recovery and Climate Experiment, or GRACE, satellites to observe and record changes throughout the basin's water supplies. GRACE satellites detect terrestrial water, including soil moisture, snow, groundwater and surface water by sensing small changes in the gravitational pull on the satellites over given areas of Earth's surface due to changes in the mass of water present. Similar methods using GRACE data have previously been applied with success elsewhere, such as over India as well as California's Central Valley.
Mead, the largest reservoir in the United States, has lost almost 20 cubic kilometers of water since the current longstanding drought began in about 2000; when at capacity, the reservoir holds about 35 cubic kilometers of water. But based on GRACE data collected between December 2004 and November 2013, researchers determined that the equivalent of two Lake Meads — about 65 cubic kilometers of water — has been depleted from groundwater supplies in the Colorado River Basin in that period. Upon seeing the results, Stephanie Castle, a water resources specialist at University of California at Irvine and lead author of the study, says she was "absolutely shocked" that so much groundwater had been used during the study period.
The big question now, Castle says, is whether surface supplies will be able to meet water demands in the future. "The groundwater supply [in the Colorado River Basin] is being unsustainably used," she says, and is "already filling the gap between supply and demand."
Complicating the matter, Castle says, is that "groundwater is considered a local resource and is managed by state regulations, which vary by state." But there is some good news. On July 31, four affected states — Arizona, California, Colorado and Nevada — signed an $11 million agreement with the U.S. Bureau of Reclamation to start managing water supplies beginning in 2015 and 2016. This agreement strives to reduce water demand in many areas, including public, industrial and agricultural use. Gleeson says he sees this as a hopeful sign, as it's possible that "this agreement will influence water policy in the Western United States" on a much larger scale.