Climate impacting a few of our favorite foodstuffs
by Timothy Oleson Tuesday, September 2, 2014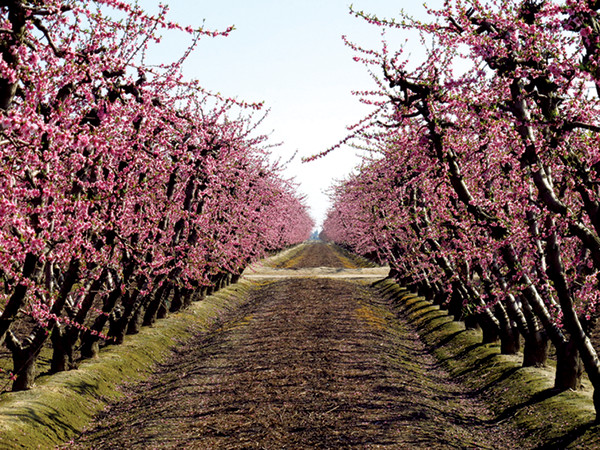 Less fog means trouble for Central Valley fruits and nuts
Researchers have found that the number of foggy winter days in California's agriculture-heavy Central Valley has dropped 46 percent on average over the past three decades. Fog shields the valley from sunlight and contributes to the amount of "winter chill" — the amount of time spent between zero and 7 degrees Celsius during winter dormancy — that fruit and nut trees there experience. Sufficient winter chill is necessary for buds, flowers and fruit to develop properly, and although winter chill has previously been observed to have decreased since the 1950s, no one had conducted a long-term analysis of fog occurrence trends in the area, according to Dennis Baldocchi and Eric Waller of the University of California at Berkeley.
Baldocchi and Waller identified the trend based on data collected over the area by satellites between 1981 and 2012, comparing sites within the Central Valley to others in the surrounding mountains to distinguish "fog days" in the valley. Year-to-year variability was high, but the long-term trend from the satellite records showed a significant decrease in fog days that agreed with trends from ground observations, the pair reported in Geophysical Research Letters.
Coffee crop could take another hit with El Niño
Coffee crops in Central America — home to several major coffee-growing countries such as Honduras and Guatemala — may suffer in the latter part of 2014 if current El Niño predictions are borne out, according to statements from meteorologists at AccuWeather.com. If so, prices at the pot could rise. "A strong correlation" between El Niño and dry weather in Central America exists, said AccuWeather's Dale Mohler on the group's website. As of early August, there was a 65 percent chance of El Niño conditions developing by this fall or early winter, according to NOAA's Climate Prediction Center. On the heels of a major drought in Brazil — the world's leading producer of green coffee beans — and together with a widespread outbreak of coffee rust, a fungus that attacks the leaves of coffee plants, "the drought that is likely to result [with an El Niño] threatens to reduce this year's coffee crop even further in the region," Mohler said.
Warmer, drier climate could stunt Spanish grapes
The quality of a popular variety of dark wine grape best known from Spain may drop when grown in the conditions of a projected future climate, according to new research. Scientists subjected tempranillo grape vines grown in greenhouses to warmer temperatures, a more carbon dioxide-rich atmosphere and less water-saturated soils. Among other observations, they found that warmer, carbon dioxide-rich air contributed to higher grape pH and lower color intensity compared to typical modern growing conditions. Meanwhile, water stress led to later ripening times, reduced leaf area and root mass, and grapes with higher skin-to-pulp ratios and lower polyphenol contents. Each of these resulting changes can have a negative impact on wine quality. The work was presented by Urtzi Leibar of the Basque Institute for Agricultural Research and Development last spring at the European Geophysical Union's annual meeting in Vienna. According to a statement released by the Institute, the research is aimed at assisting "the wine growing sector in mitigating possible damage by the anticipated climate conditions, or, where appropriate, to take advantage of the opportunities that may present themselves."