China quake kills at least 400
by Carolyn Gramling Thursday, January 5, 2012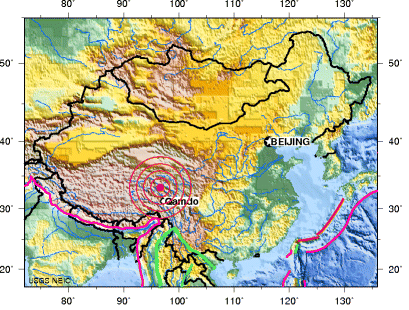 Update:
In 2008, it was the Longmen Shan Fault, a 250-kilometer long thrust fault that divides the 6,500-meter-high Tibetan Plateau from the lower Sichuan basin, which ruptured. However, today's series of quakes occurred several hundred kilometers to the northwest, in the eastern Tibetan Plateau, and were the result of strike-slip faulting, according to USGS.
The geology of this region is quite complex. The quakes occurred several hundred kilometers north of the plate boundary between the northward-driving Indian subcontinent and the Eurasian Plate. The ongoing collision between these plates began about 45 million years ago, producing the Himalayan mountain range and lifting the Tibetan Plateau. The complicated tectonic forces in the region have also created strike-slip faults in the region, including the Altyn Tagh and the Kunlun strike-slip fault systems. The Kunlun fault, which runs about 300 kilometers north of today's earthquake, has produced many historical earthquakes in Qinghai province, including a magnitude-6.5 quake in 1738.
Original story:
A powerful magnitude-6.9 earthquake struck southwestern China at 7:49 a.m. local time Wednesday. The quake struck a mountainous rural region in China's western Qinghai province, and was followed by multiple strong aftershocks of magnitude-4.8 or stronger. A magnitude-5.0 quake also rocked the region about two hours before the larger earthquake.
The Associated Press reported this morning that at least 400 people have been killed and thousands more injured, based on reports by Chinese emergency officials. According to China's Xinhua News Agency, more than 85 percent of buildings collapsed in nearby Jiegu township, largely populated by ethnic Tibetans. Rescue efforts have so far been hampered by downed phone lines, while fears mount that the quake may have further damaged a nearby dam that was already showing cracks.
The earthquake's epicenter was shallow, only 10 kilometers deep, and was about 240 kilometers north-northwest of the city of Qamdo in Tibet,  according to the U.S. Geological Survey. A devastating earthquake two years ago in neighboring Sichuan province killed about 87,000 people.