Buried sands tell of tsunami hazard from creeping megathrust fault
by Timothy Oleson Monday, May 16, 2016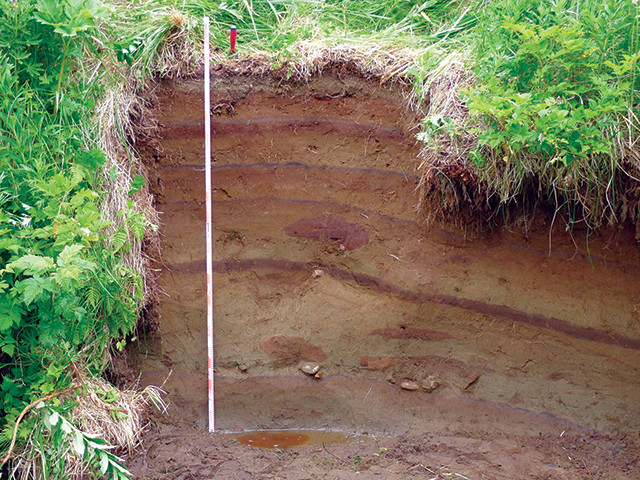 A slow-moving portion of the Alaska-Aleutian Mega­thrust Fault near Alaska's Dutch Harbor appears more capable of generating sizable tsunamis than previously thought, according to a new study.
Researchers led by Robert Witter of the U.S. Geological Survey dug and cored into the ground at dozens of sites at Stardust Bay on Sedanka Island. Within a few meters of the surface, they found distinct sheets of marine sand left by half a dozen past tsunamis up to about 800 meters inland and 15 meters above sea level. Radiocarbon dating revealed that the oldest of the six layers was deposited about 1,700 years ago, and that the events occurred every 300 to 340 years on average. The most recent deposit was likely left by the 1957 magnitude-8.6 Andreanof Islands earthquake, which struck to the west of Stardust Bay and also carried large drift logs far inland, they reported in Geophysical Research Letters.
Unlike the locked fault segments immediately to the east and west — which last ruptured in 1946 and 1957, respectively — the roughly 400-kilometer-long stretch of the Alaska-Aleutian Megathrust Fault extending from just southwest of Sedanka Island to the northeast is known from GPS data to be "creeping." Creeping portions of faults, where seismic stress is gradually released as two plates move slowly and continuously past each other, are typically thought to pose smaller earthquake and tsunami hazards than locked portions.
But the study shows that this area has experienced frequent, large tsunamis in the past. The mechanisms of how these past events were triggered — this fault segment may have previously been locked, or the tsunamis could have been caused by submarine landslides, for example — are unknown, but Witter and colleagues noted that the findings should prompt re-evaluations of tsunami hazards faced by coastal communities around the Pacific Rim and in Hawaii.