Blogging on EARTH: A letter from field camp
by Bryce Mitsunaga Wednesday, July 24, 2013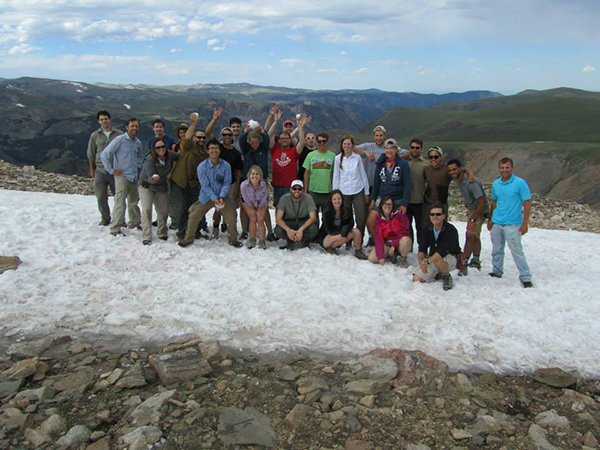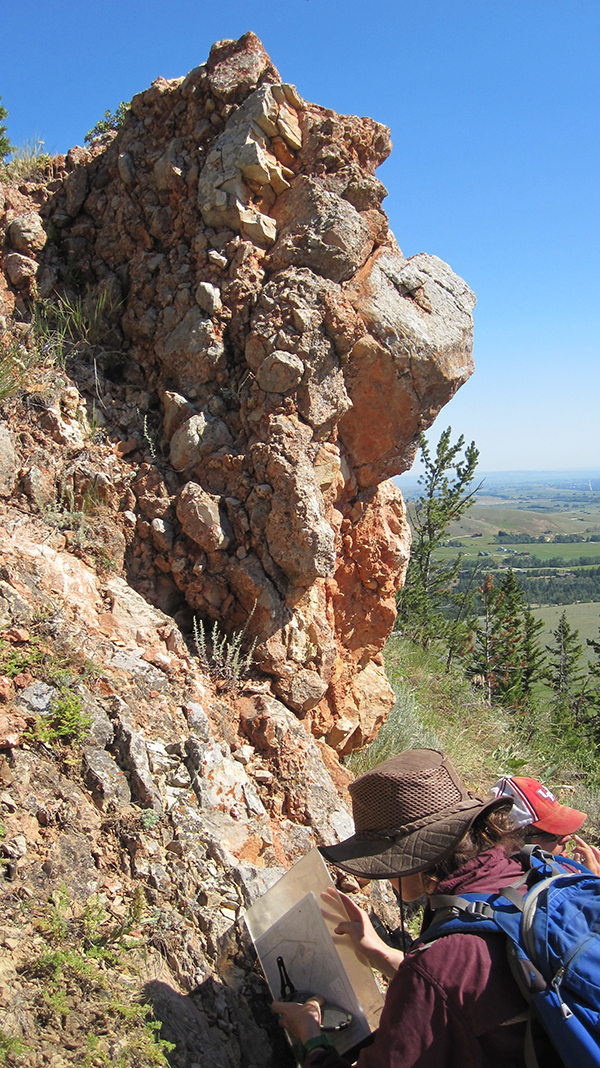 Bryce Mitsunaga, a recent graduate of Williams College in Williamstown, Mass., is currently attending field camp at the Yellowstone-Bighorn Research Association camp located in the Beartooth Mountain Range outside of Red Lodge, Mont. In honor of EARTH's August feature on field camps, Bryce wrote in with some reflections on his experiences so far.
A typical day at field camp in Montana:
6am - Wake up
7am - Breakfast in the mess hall
8am-5pm - Hike through the backcountry, fight off horseflies, suffer through thirst and exhaustion
6pm - Dinner in the mess hall
7-11pm - Lecture and homework
It is grueling work, but a great learning experience: I am at the University of Houston's field camp at the Yellowstone-Bighorn Research Association (YBRA) facility in southwestern Montana for a month with four professors and 24 other geology students from across the nation. For many, this is the last hurrah; after passing the field camp course, they can go home and tear open an envelope containing their brand-new bachelor's degree. For others, including me, the experience is optional, but strongly encouraged, and we'll enter the workforce or finish our undergrad degrees with first-hand knowledge of the life of a field scientist. In both instances, field camp is an addendum to our undergraduate education, a chance to grow as a scientist, and another feather for our caps.
The Houston-YBRA field camp is located a few kilometers from the ski town of Red Lodge, Mont. The facility has a permanent staff of fewer than 10 cooks and handymen, but they manage to keep a hundred campers fed and the old cabins and washrooms well-kept; at the end of the day, we're usually too tired to notice a creaking bunk or a gap in the shower curtains anyway.
When we're in camp, we spend most of our time in one of the classrooms — either a repurposed meeting room or an old library. The curriculum centers on understanding geologic structures; we measure the strike and dip of bedrock, identify and classify faults, and pick out the boundaries between different layers, most of which have been tilted and folded and displaced beyond recognition. Next, we have to translate our three-dimensional findings onto a flat piece of paper, which takes creativity and imagination. We draw cross sections, learning to look through Earth to the invisible layers and features that lie thousands of meters below the surface. The best field geologists use their training to differentiate between similar-looking units; the best mappers can mentally manipulate an image, slipping back and forth between two- and three-dimensional space. 
As you might expect in a place where the multitalented thrive, there are no "typical" students here; we are musicians and mountain climbers, future professors and ski  bums. I got my geosciences degree from Williams College, a small liberal arts school in Massachusetts, and I am attending with my department's blessings (and some of their money), since we are too small to run a camp of our own. There are two prerequisites for the program: Structural Geology and Sedimentology/Stratigraphy.  I arrived lacking the former — a victim of the rotating course catalogs of small colleges — and so I possess far less knowledge of practical field techniques than my peers. At first, I struggled; I felt utterly unprepared, as if I were impeding my mapping partners' progress. I came very close to admitting defeat the day I left my $400 Brunton compass out in the field.
After about a week, though, something strange happened ... I started finding my groove. Once I got used to the schedule and understood our purpose, everything else fell into place and now I love it here. With the help of my classmates and professors, I am filling the gaps in my knowledge faster than I ever could have in an ordinary classroom setting. I get to play with new toys, like a Jacob's Staff (a surveyor's tool for translating horizontal distance to height), and refamiliarize myself with the rest of the field geologist's arsenal, from compasses to hammers to bottles of hydrochloric acid. When we sit down to draft our maps in the evenings, I have a chance to engage the right half of my brain. Finally, I treasure the quiet moments of hiking from outcrop to outcrop: it's no vacation, but I am still a tourist in the midst of some of the most beautifully bizarre, contorted mountain ranges in the world.
Field camp is not for everyone. But my advice to students is — if you have the time, the resources and the inclination — go. Beware that the schedule is grueling. We wake up early, spend the length of a typical workday in the field, and map all night. We have very little free time. But if, like me, you want to improve your knowledge of practical earth science methods, go. Do not let fear of your inexperience hold you back. Once you overcome your initial frustration, you will come to adore your peers, your work, and your surroundings, in that order. Make the leap.
P.S. I recovered my Brunton — things are looking up!