Blogging on EARTH: Behind the scenes with a storm chaser (part 3)
by Nick Luchetti Friday, June 21, 2013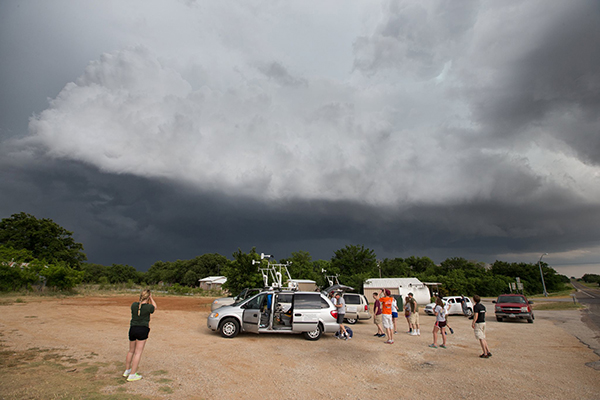 In this series of three posts, Nick Luchetti, an undergraduate meteorology student at Virginia Tech, describes the thrills and emotions he experienced while chasing supercell storms and tornadoes in the Great Plains this past spring. Read the first and second posts.
Chasing Safely
With the recent deaths of noted tornado researchers Tim Samaras, Paul Samaras and Carl Young, the ethics of storm chasing has been in the news lately. Unfortunately, much of the anti-chasing commentary that has emerged has overlooked its scientific value. There certainly are wreckless chasers who go too far to shoot the "best" videos and photos and, in the process, give chasing a bad name. These are often the same people who "hail core punch" — intentionally driving through hail cores (areas of strong radar reflectivity, indicating where large hail stones are falling) to more quickly position themselves in the inflow notch — who drive at twice the speed limit in residential areas to outrun a storm, and who chase storms through crowded cities.
These chasers exist, but not everyone is so cavalier in the field. In fact, Tim Samaras was one of the safest chasers out there. He was also a pioneer in tornado and lightning research, and his death is an incredible loss to meteorology. It also shows that even the safest chasers can't always discern how the atmosphere will unfold. Storm chasing is inherently dangerous, and placing yourself in such an extreme environment is always risky.
But as our instructor Dave Carroll says at the beginning of each storm chase, "It's a two-way trip." We chase as safely as possible: We always have an escape route, we never punch through hail cores and we communicate between our vans via radio. It is a team effort and every member has to be on their A-game. Nonetheless, there is always risk.
Mixed Emotions
As a chaser, I sometimes feel torn. On one hand, I believe there is nothing wrong with chasing and admiring these beautiful storms — and in fact, helps us better understand these behemoth storms, which helps us forecast them. On the other hand, you can't take joy in observing them when you know people are suffering a short distance away. This was the case as our team was chasing a supercell south of Moore, Okla., on May 20. Ultimately, the cell to our north and the tornado that emerged from it destroyed much of the town. Two hours earlier, we had traveled through Moore and had even talked on ham radio to a local who shared his survival story of the EF-5 tornado that struck the same area in 1999. Shortly after beginning our chase south of Moore, we began hearing reports of the town being struck. It was sobering.
Up to that point, I had been amped up to see these supercell storms. But I started to sense that our presence in the area was scaring people. At a gas station, people came flying up to us asking for help. I have never seen such fear in someone's eyes. One woman was on the phone with her husband, who was in a town about to be hit by a mesocyclone. I could only show her the radar on my phone and tell her husband to take cover. Others asked me about specific locations: "What about this town? And this road? My house is on this street." But not knowing the geography well, I simply couldn't help them beyond showing them the storm track.
Watchers of the Sky
While in the field, we try to remember that such destruction would occur regardless of whether we were there or not. The Hokie Storm Chasers aren't there for personal gain We are out there to learn about the forces of nature, to study tornado genesis and to help develop better forecasting tools. And, let's be honest, we are out there because we are ridiculous weather geeks and we hope to spark continued interest in studying such incredible phenomena.
Every student in Virginia Tech's storm chasing program is certified as a Skywarn spotter, meaning we have taken classes on spotting storms and have the knowledge to properly describe what we are seeing to the National Weather Service. We do this while out in the Great Plains and while at home in Blacksburg, Va.
Although technology for observing extreme weather remotely will undoubtedly improve, the unpredictable nature of such storms means that the need for professional storm chasers and trained spotters will never cease.