Beware the list that skews your view
by Timothy Oleson Thursday, October 30, 2014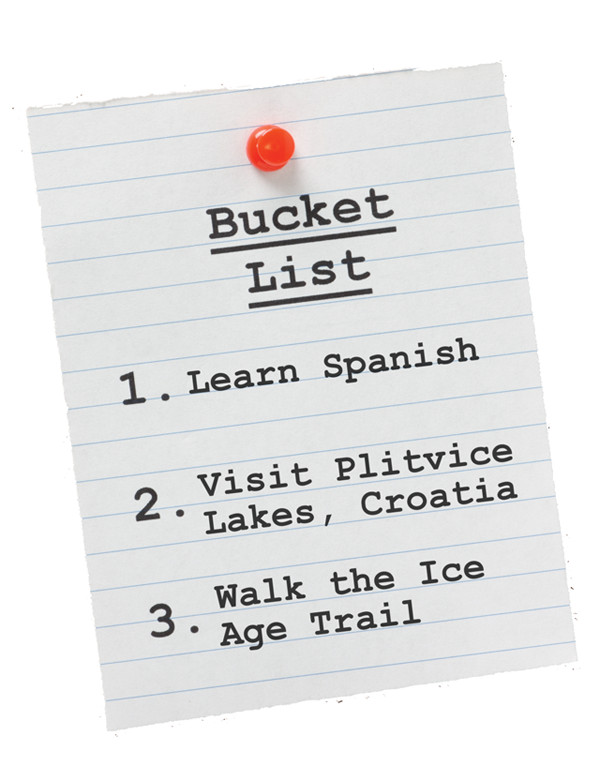 Editor's Note: We asked our staff and some frequent contributors to write a short commentary on something that they had been thinking about in 2014. We gave everyone carte blanche. What follows is a collection of extremely varied, often very personal insights into how the planet impacted each individual.
List-making is an almost universal human endeavor. Some of us still scrawl them on paper; some tap them out on virtual sticky notes on phones and computers. Others, using mnemonic devices or sheer willpower, keep track in their heads. (I'm partial to the ink-on-paper medium, though I stray occasionally.) Whatever the case, I don't know anyone who doesn't make lists.
We especially love forward-thinking, goal-setting lists on which we can tick off boxes, cross out items, or otherwise redesignate a "to-do" — no matter how big or small — as a "done." There are grocery lists, errand lists and wish lists; lists of household chores, work assignments or ideas for personal or professional improvement; annual resolution lists, lists of long-term goals and bucket lists. There are even lists of types of lists.
Those of us with an affinity for earth science, or more broadly for exploring the natural world, also keep certain lists — of places to which we'd like to travel, or geologically fascinating sites we want to see, study and, when feasible, touch firsthand. Maybe yours is dotted with remarkable volcanoes, gorges or glacial landscapes, or with sites of historical and scientific significance in geology.
I for one have a particularly long list of spectacular places to visit. And with each issue of EARTH, it grows longer. I'll spare you a full recounting, but suffice it to say it now includes Croatia's Plitvice Lakes, the Pamir Mountains of Tajikistan and Iceland's Skaelingar Valley. While designing a decathlon of sorts for earth science-enthusiasts touring the United Kingdom ahead of the London Olympics in 2012, I added 10 can't-miss spots (more actually!) to my list in one fell swoop. In fact, I add places almost daily courtesy of a tear-away calendar at home entitled "1,000 Places to See Before You Die" (which, now that I think about it, seems like an oddly ominous and perhaps overambitious aim).
Making lists certainly serves useful purposes: They help us remember, organize and prioritize what's on our minds, perhaps liberating a useful bit of brain space in the process. And they can be inspiring, stoking our imagination and nudging us to make progress toward goals.
But I've found that lists — if they linger unattended, grow too long or are stacked one on top of another — can also grow stale. Stared at long enough, they taunt us about good intentions left unfulfilled or destinations yet unseen.
This past summer, my wife and I, after each having lived in Wisconsin for more than a decade, left for the Washington, D.C., area. In the months before the move, we created an ever-changing bucket list — written out by hand and posted on a kitchen cupboard — of things to do and sites to see around the state, intent on getting to as many as we could. In addition to hoped-for stops at various breweries and purveyors of fine fried cheese curds, my contributions included a number of impressive geologic features I hadn't experienced, like the Ice Age Trail, Cave of the Mounds and Van Hise Rock. It was a long list, as we'd grown fond of the state. We checked off items frequently, but making progress on our bucket list was slow because there were always more to-dos to add. Frustratingly, we were never going to get to everything.
At some point it occurred to me, however, that making progress on the list wasn't the point. It was just supposed to be a collection of ideas for how we could appreciate a little more of the area before moving. But trimming the list had become a goal in itself, one that rang a little hollow and stripped some spontaneity from each of our explorations. (Thankfully, the natural beauty and homegrown edibles of Wisconsin that we did enjoy far outweighed our bucket-list frustrations.)
For me, there will always be a touch of gratification that comes with ticking boxes on lists. And I'm not going to stop jotting them down on so many scraps of paper. But there are distinctions to be drawn between different types of lists. And, at least when it comes to inventorying places to visit or fascinating geology to see and touch, it's worth bearing in mind that the experience itself should be more fun and fulfilling than the act of crossing it off a list.