Benchmarks: February 23 – 24, 1999: Alpine Avalanches sweep through Austrian towns, killing dozens
by Timothy Oleson Tuesday, August 23, 2016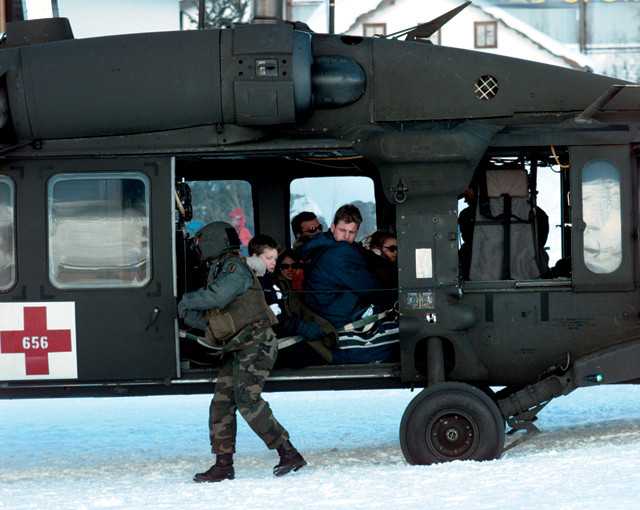 For skiers, snowboarders and other high-elevation winter adventurers, avalanches pose an ever-present, if difficult-to-anticipate, risk. But tourists and townspeople at the lower elevations and on the flatter terrain of mountain valleys are usually far from such threats. For the tiny Austrian towns of Galtür and Valzur — popular winter destinations for their ski trails and chalets — that was not the case in late February 1999.
Toward the end of a very rough Alpine winter, tragedy struck when avalanches swept through the neighboring Tyrolean villages on successive days. In both cases, massive snow slabs tore from mountainsides above the towns and rushed down the slopes in mere moments, burying parts of the villages in snow up to 10 meters deep. Residents and visitors returning from their day out on the slopes or enjoying afternoon strolls, albeit in particularly snowy and blustery conditions, were left with little time to react.
During the winter of 1999, even before these two big avalanches, the Alps had seen an unusually high number of avalanches, including deadly and destructive events in France, Switzerland and Italy. A rare combination of especially large snowfalls, low temperatures and high winds resulting from a stagnant weather pattern over Europe is thought to have made conditions ripe for large avalanches that season. The events brought renewed attention to avalanche hazards and efforts to update mitigation strategies, particularly in hard-hit Austria.
Avalanche-PRONE Conditions
Avalanches result when mountainside snowpacks weaken and are released by a trigger. Often, small vibrations caused by human activity act as triggers, explaining in good measure why skiers and mountaineers roaming through untended backcountry, or off-piste, areas comprise a majority of the roughly 150 avalanche-related fatalities around the world each year. But heavy snowfalls and high winds can also cause instabilities, which, along with contributions from snowpack conditions, terrain, and the grade and orientation of slopes, can also lead to failures.
In 1999, relatively light precipitation early that winter gave way in late January to the first of three major snowfalls that blanketed the Alps. From Jan. 27 to Jan. 31, about a meter of snow fell over large expanses of the mountain range, brought on by the combination of a high-pressure system off Europe's Atlantic coast and a low-pressure front over Scandinavia. "As a result, fast altitude streams conveyed cold and wet air from the Arctic regions to the northern Alps," wrote Marie Rousselot of the Snow Study Center at the National Center for Meteorological Research in France and colleagues in an analysis of the winter weather during the Alpine avalanche season of 1999, published in the Journal of Glaciology in 2010. The conditions also brought high winds from the west-northwest, contributing to a system that is "often associated with intense precipitation and major avalanche release in the northern Alps," the researchers wrote.
The weather pattern persisted, leading to a second, larger snowfall between Feb. 5 and Feb. 10 that dumped about 1.3 meters of new snow in the vicinity of Galtür and almost 2 meters at Chamonix in eastern France, near Mont Blanc. More than two dozen major avalanches were reported in the vicinity of Mont Blanc during that time. Above the French village of Montroc, an avalanche slid half a kilometer to the valley below on Feb. 9, damaging or destroying 20 buildings and claiming 12 lives.
A third bout of snow, lasting from Feb. 17 to Feb. 25, roared across the same areas that had been inundated by the earlier snowstorms. Tens of thousands of people were stranded for days in remote mountain hamlets across the Alps as road and rail traffic ground to a halt. On Feb. 21, a large avalanche broke loose at an elevation of roughly 3,000 meters, falling 1.5 kilometers and killing an estimated 12 people in Evolène, Switzerland. And, on the morning of Feb. 23, one woman was killed when a building collapsed during a similar event in the northwestern Italian town of Morgex.
Disaster in Tyrol
In western Austria's Paznaun Valley, snow totals during the weeklong late February storm reached 2.5 meters at higher elevations. Howling winds, reportedly gusting up to 280 kilometers per hour, exacerbated conditions and piled up more snow on the southward-facing slopes overlooking Galtür and Valzur. At 4 p.m. on Feb. 23, a huge slab of snow and ice gave way on the steep open hillside at an elevation of 2,700 meters, about 1,100 meters above Galtür. The resulting dry powder avalanche accelerated quickly, entraining more snow and likely attaining speeds of almost 300 kilometers per hour before reaching the valley floor.
Avalanches on this slope had historically been relatively small — rarely reaching, let alone crossing, the Trisanna River, which runs along the north side of the main part of the village. The snow mass that crashed down on that Tuesday, later estimated at 136 kilotons, rushed over the river and barreled into the center of Galtür, well beyond the vulnerable "red zone" (where construction is prohibited) designated on existing avalanche hazard maps.
Less than a minute after the avalanche had started, the town was meters deep in snow. Cars were upended, 24 buildings were destroyed or damaged and dozens of people were buried by the torrent.
Rescue efforts began immediately, with residents and tourists using shovels and their hands to search for survivors. But worsening weather conditions in the late afternoon and evening prevented rescue personnel and helicopters, flying in from Landeck some 35 kilometers away by air, from reaching the town until the following day. As emergency crews finally arrived in Galtür on Wednesday, Feb. 24, another large avalanche struck Valzur — just a few kilometers to the northeast and also presumed to be out of the reach of dangerous snow slides. The Valzur avalanche, which had also plummeted from about 2,700 meters elevation, destroyed seven buildings and buried 10 people.
All told, the two avalanches killed 31 people in Galtür and seven in Valzur — many of whom were vacationing tourists. More than 20 survivors were dug from the snow in Galtür. A few people were also rescued in Valzur, including, remarkably, a 4-year-old boy (known as the "Miracle of Valzur") who was pulled to safety and revived after being buried for an hour and a half. In the days following the avalanches, thousands were evacuated from the two towns, as well as from others, mostly by helicopter.
The Aftermath
By most accounts, the winter of 1998–1999 was the worst the Alps had seen since the "Winter of Terror" in 1951, which saw extreme snowfalls, hundreds of reported avalanches and 235 avalanche-related fatalities in Austria and Switzerland alone. The avalanche season of 1999 — which tallied more than 70 deaths across Austria, France, Italy and Switzerland from January through February — was one of the most lethal of the 20th century, with the Galtür avalanche topping the continent's list of deadly snow slides that year.
Given how unprepared many of the towns and populations were for the avalanches in 1999, in the aftermath, many questions were raised about whether existing avalanche hazard standards and mitigation strategies were sufficient. In many cases, authorities decided they were not.
In Austria, official avalanche hazard zoning began in the 1970s, largely in response to deadly snow slides in 1951 and 1954 — the latter of which killed more than 150 people in Blons — and to escalating development as Alpine communities shifted their commercial interests from farming to tourism. Permanent settlement and construction were forbidden in areas deemed most at risk. These "red zones" were designated as areas that, based on predictive modeling, were expected to experience large avalanches with a return period of 150 years.
But with limited historical data to go on, determining red zone boundaries, as well as those of less-threatened yellow zones and supposedly safe green zones, was an imperfect process. Prior to 1999, the Paznaun Valley had not seen an avalanche on par with those that hit Galtür and Valzur in living memory, and purportedly not since the late 17th century. As such, the towns both lay outside the red zone and were guarded at the time by few, if any, protective measures.
Following the tragic avalanches in the Paznaun Valley in 1999, revised standards for defining hazard zone boundaries in Austria were issued the following July, which greatly expanded red zone areas. In Galtür, a dam was installed to protect the village from future slides, and higher up the mountainside, avalanche fences were erected to prevent the formation of massive single snow slabs that could again break loose. And in nearby Valzur, buildings and homes were rebuilt a short distance up the valley, out of the direct path of the avalanche that flattened them 15 years ago.
In recent years, increased mapping and study of avalanche-prone areas in Austria and elsewhere have led to improved modeling of avalanche dynamics and return periods, but much remains to be learned.