Benchmarks: April 22, 1995: GLOBE is launched
by Sara E. Pratt Wednesday, April 13, 2016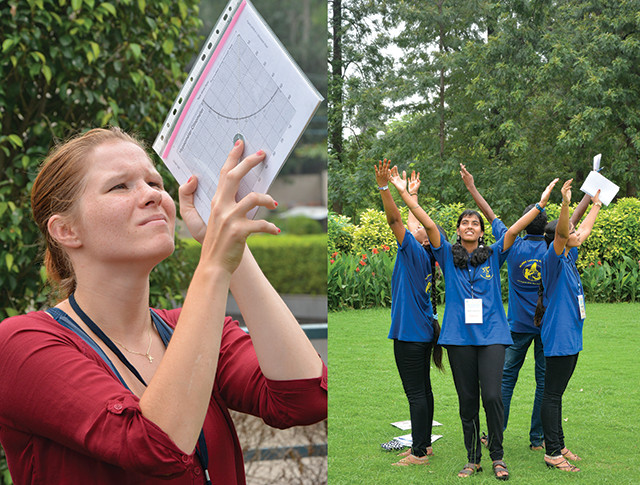 Studying the global environment requires collecting numerous detailed observations. And although it may seem today like we're awash in such data, relevant observations — collected at the right time and place — are often unavailable. For example, scientists studying precipitation must rely on just a handful of sampling stations: All of the world's raingages gathered together would only cover an area the size of two basketball courts.
Imagine if thousands of scientists, distributed around the world, could each collect data about their local environment, taking samples daily and perhaps even timing their data collection with the overpass of a satellite measuring the same parameter. These researchers could amass a powerful set of geoscience data, which would grow continually and could be used to ground-truth the accuracy of satellites, as well as to perform myriad other investigations, including into how climate change is affecting earth systems and the global environment.
In fact, that is exactly what the Global Learning and Observations to Benefit the Environment (GLOBE) program has been doing for more than 20 years.
Although the program title specifically notes its intended benefit to the environment, arguably, the true beneficiaries are the millions of students worldwide who have been involved in the program since it began on Earth Day 1995. One of the first large-scale, organized citizen science efforts, GLOBE began as a White House initiative to train teachers around the world to teach students the scientific method using hands-on techniques, and to take advantage of a nascent technology called the Internet.
Students use scientific instruments to monitor the environment around their school and local community, and then upload their data online where those data can be accessed and used in scientific work ranging from local student science fair projects to researchers' global climate models. Today, the program — which is sponsored by NASA and the National Science Foundation (NSF) and supported by NOAA with assistance from the U.S. Department of State — has participants in nearly 29,000 schools in 116 countries. Over the program's 20 years, more than 65,000 teachers and 10 million students have collected and entered more than 130 million measurements into the GLOBE database.
Following Protocol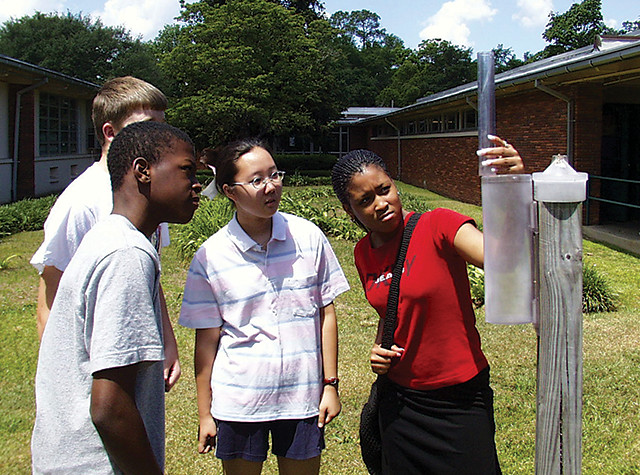 The program, announced on Earth Day 1994, officially started on Earth Day the following year with 33 participating countries and 11 protocols — standardized procedures for the collection of environmental parameters like precipitation, temperature, snow depth, soil moisture, cloud cover, and tree height and circumference. The protocols ensure that GLOBE data are consistent, accurate and able to be used widely.
GLOBE field campaigns built around certain protocols can also provide well-constrained data for researchers. For example, the surface temperature field campaign, initiated in 2005, asked students to compare two sites around their schools — one grassy, like a playing field, and one paved, like a parking lot — using the surface temperature protocol, which instructs students on how to take ground temperatures using hand-held infrared thermometers.
Field campaigns not only give students a chance to gain research experience for themselves, but they can also help their communities. In 2005, students at the Notre Dame School in Santo Domingo, Dominican Republic, discovered that the paved surfaces around their school had the highest temperatures of any surfaces observed by students at schools participating in the campaign that year — and they decided to use science to see what they could do about this urban heat island effect at their school. The students designed an experiment testing hard surfaces that were painted different colors, and discovered that while white was too reflective and uncomfortably bright, green was less harsh on the eye and lowered surface temperatures by 3 degrees Celsius compared to unpainted surfaces. Word spread and, soon, many buildings around town were also sporting surfaces newly painted green.
Today, there are 58 protocols to measure and record different aspects of the atmosphere, biosphere, hydrosphere and pedosphere (soil). Two of the newest protocols were designed to accompany two NASA satellite missions: the Global Precipitation Measurement (GPM) mission and the Soil Moisture Active Passive (SMAP) observatory.
GPM uses radar instruments on a group of Earth-orbiting satellites to measure rain, snow and other precipitation. But the way satellite data are used to calculate rainfall differs significantly from the way rainfall is traditionally measured using raingages, which is how GLOBE students do it. Gathering the same data with two different methods not only allows researchers to ground-truth the satellite data, but also makes for a more robust dataset.
The SMAP satellite, which covers the globe every three days, measures global soil moisture levels using a passive radiometer (the active radar is currently not working) and the data are used to produce daily maps. Soil moisture plays a role in weather and climate, as well as in hazards such as drought, wildfire, floods and landslides, and affects agriculture and human health. The GLOBE protocol entails students collecting soil, weighing it, drying it and weighing it again to calculate the water fraction. To more accurately compare the soil moisture measured by the satellite with that sampled on the ground, students are encouraged to collect measurements within three hours of the satellite overpass, which usually happens a few times a week, says Julie Malmberg, GLOBE staff scientist, who is based at the GLOBE Implementation Office at the University Corporation for Atmospheric Research (UCAR) in Boulder, Colo.
Another protocol collaborates with the CloudSat mission, asking students to gather data about their local cloud coverage and type. Such data help researchers study how clouds — their abundance, distribution and location — influence Earth's radiation budget.
Teaching Teachers
From the beginning, the core of the program was to train teachers around the world. In each participating country, there is a coordinator who facilitates government involvement, conducts on-site trainings and helps local teachers access GLOBE's many resources, like the teacher's guide and toolkits.
Early on, the first teachers who were trained then trained other teachers. "It grew like a tree," says Janet Heiderer, GLOBE communications coordinator. In 1997, GLOBE held its first teacher conference in the U.S. The next year, the first GLOBE Learning Expedition (GLE) was held in Finland. GLEs, large conferences where students present their research and network with scientists and other students, have since been held in Croatia, India, South Africa and the U.S. GLEs are "one of the most fantastic events of GLOBE," says Tony Murphy, director of the GLOBE Implementation Office, "because you are able to meet the students and see just how far they have taken this program."
While some schools only implement GLOBE for a single grade or just in certain grades, Heiderer says, others implement it from kindergarten through 12th grade; thus, some GLOBE students graduate high school having received 13 years of exposure to the earth sciences. Heiderer, who helps track alumni of the program, says that, thanks to GLOBE, many students around the world who might otherwise not have received much science education were inspired to pursue careers in science.
20 Years And Counting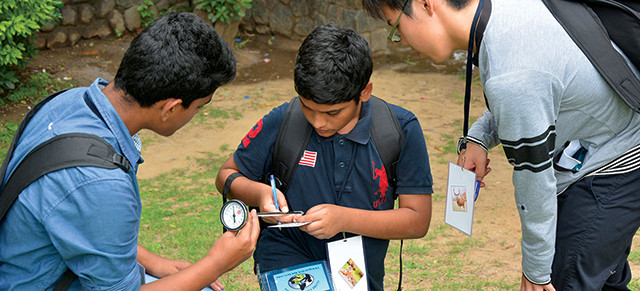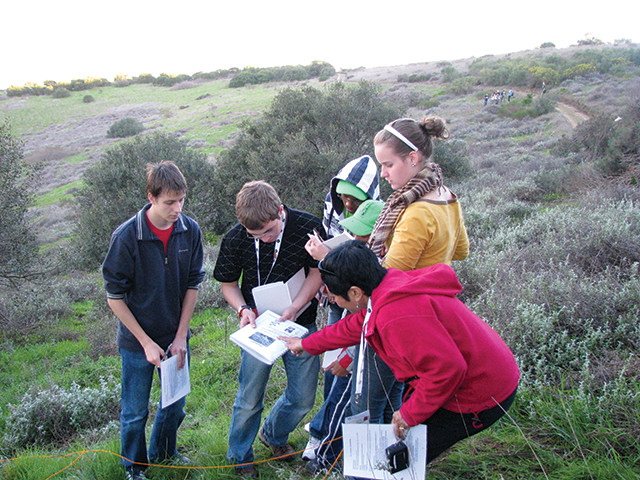 As Earth Day 2016 approaches, GLOBE wraps up a year of events and programs held to commemorate the program's 20th anniversary, including a Kilimanjaro expedition in Tanzania, a camp in Oman, a special teacher training workshop in Argentina, and ceremonies in many countries to celebrate 20 years with the program.
In April, GLOBE will host the third annual International Virtual Science Fair, an online science fair open to students from GLOBE countries. Students must use GLOBE data they collected themselves and collaborate with scientists, ideally one of the 260 scientists in the GLOBE International Scientists' Network (GISN) who volunteer to mentor students.
Winners of the science fair will receive funding to travel to the 20th GLOBE Annual Meeting and Student Research Experience to be held in Estes Park, Colo., just outside Rocky Mountain National Park, in July. There, students will participate in a field research challenge in which they measure multiple environmental variables and observe how they vary with altitude, Malmberg says.
The program also rolled out new teacher materials, all of which are downloadable for free from the GLOBE website (www.globe.gov), and continues to recruit scientists interested in mentoring students to GISN. Additionally, this year, NSF sought proposals for how GLOBE could be leveraged to help increase diversity in the sciences. Calling GLOBE an "effective model for using inquiry-based approaches to strengthen science, technology, engineering, and mathematics (STEM) education," NSF now wants GLOBE to expand its reach within the U.S. — where it all began.
Scientists interested in joining the GLOBE International Scientists' Network can find more information at www.globe.gov/web/globe-international-scientist-network