Bare Earth Elements: "Volcano of Fire" eruption forces evacuations in Mexico
by Timothy Oleson Monday, July 13, 2015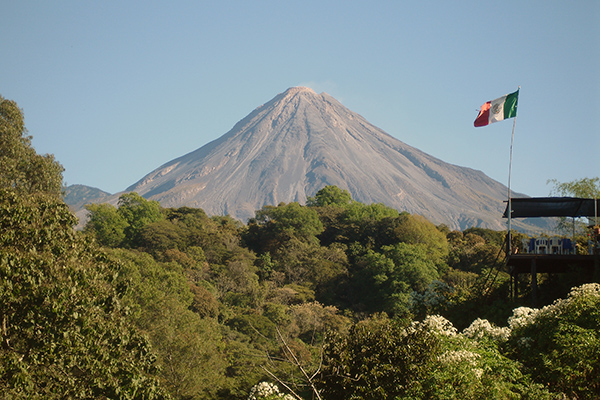 Mexico's civil protection agency, along with local officials, issued an emergency declaration Saturday for the area surrounding Colima Volcano, after the eruption that began on Thursday intensified into the weekend. The eruption is said to have sent towering clouds of ash upwards of 4 kilometers into the sky, while lava and pyroclastic flows have spewed down the flanks of the volcano also known as Volcán de Fuego, or Volcano of Fire — one of Mexico's most active.
The declaration created a 12-kilometer-radius evacuation zone around the volcano, which sits on the border of Colima and Jalisco states in southwestern Mexico, and closed the airport in the city of Colima. The evacuation has reportedly forced hundreds of residents to leave several small villages, including La Becerrera and La Yerbabuena, the latter of which is said to have been covered in 5 centimeters of ash following eruptive activity on Saturday. Colima state Governor Mario Anguiano has issued brief statements via social media reminding residents to be wary of inhaling ash when outdoors, and to keep doors and windows closed to avoid letting ash seep into homes and buildings.
The announcement of the emergency declaration was made after officials from Mexico's National Civil Protection System, part of the country's Interior Secretariat, along with state officials from Colima and Jalisco flew over the volcano to survey the scene.
According to a statement posted Saturday evening on the Colima state government's Facebook page, a scientific advisory committee including scientists from the volcanic observatory at the University of Colima said that the eruption is unprecedented since 1913. In January of that year, Colima saw a very large eruption — reaching 5 (out of 7) on the volcanic explosivity index — that left a 300-meter-deep crater at its summit.
Following the 1913 eruption, the 3,850-meter-tall andesitic stratovolcano situated in the western Mexican Volcanic Belt was mostly quiet until the mid-20th century, when it again began erupting occasionally. The activity of the last several days follows unrest, including small explosions as well as ash and gas emissions, that has been going on for more than two years now.
It's unclear how long the current eruption will continue, but officials suggested it could continue for several weeks. Efforts to cope with the fallout from the Colima eruption have reportedly been complicated by rainfall in the area; on Sunday, a tropical depression off the southwest Mexican coast strengthened into Tropical Storm Dolores, which may dump additional rain in the region. Dolores is expected to strengthen to a hurricane by tonight or tomorrow morning, although its northwesterward track should gradually carry it away from the Colima.
To see recent images of Colima Volcano from a nearby webcam, click here.