Bare Earth Elements: Tour brings hurricane hunting aircraft and expertise to the masses
by Timothy Oleson Thursday, May 11, 2017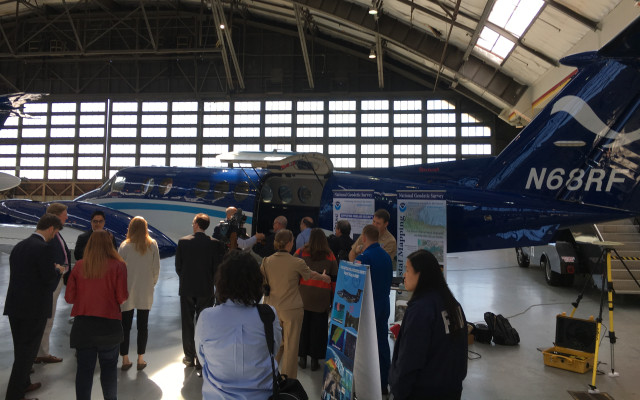 With hurricane season officially getting under way on May 15 in the Eastern Pacific and June 1 in the Atlantic — and named tropical systems already having popped up on both sides of the country — NOAA has been busy this week publicizing National Hurricane Preparedness Week. The outreach effort aims to inform the public — especially those who live in areas prone to tropical storms — about what they can do in advance to prepare for potentially damaging and life-threatening storms. This year, the agency is simultaneously hosting its annual Hurricane Awareness Tour, a week-long traveling exhibition featuring meteorological and preparedness experts from the National Hurricane Center (NHC), the National Weather Service, the Federal Emergency Management Agency and other partner groups.
The stars of the tour, however, are undoubtedly the hurricane-hunting aircraft on display, along with the crews who operate them. These aircraft are flown around and into tropical storms of all sizes — from depressions to Category-5 hurricanes — collecting real-time visual observations and atmospheric and oceanic data with cameras, radar, lidar, dropsondes and other instrumentation. These data are then used to improve modeling and forecasting of storm tracks and intensities before, during and after storms, as well as to evaluate post-storm impacts.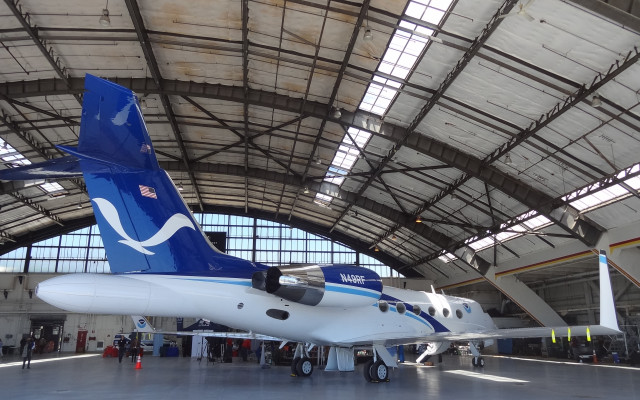 This year's tour started Sunday at Gander International Airport in Newfoundland, Canada, before moving on to stops on Long Island in New York, Washington, D.C., Raleigh, N.C., and Orlando and Miami, Fla. At each stop, schoolchildren, the public and the media are invited to get behind-the-scenes looks at the aircraft and instrumentation used in hurricane hunting, and to meet pilots, scientists and others involved in the program.
I dropped by Ronald Reagan National Airport for the tour's Washington D.C., stop on Tuesday. It was time well spent. Part of the appeal, certainly, was being around many other people for whom, like me, the science of wind, water and — yes — big ol' storms inherently holds great interest. But the aircraft and crews were the main attraction. Four aircraft were on display at Reagan, more than at any other previous tour event: a Beechcraft King Air 350, a Gulfstream IV-SP, and a Lockheed Martin WP-3D Orion, all operated by NOAA, as well as an Air Force WC-130J.
I'll save my gushing about how cool it was to see these planes up close for my wife and anyone else I encounter in person in the next few days, but suffice it to say they are impressive machines, both inside and out. Even more impressive, however, are the men and women who routinely fly them to and through powerful tropical storms. Listening on Tuesday to some of these individuals talk about their roles, I found their zeal for the work and the confidence with which they pursue their missions inspiring.
In addition to showing off the tools of the trade, the Hurricane Awareness Tour also offers NOAA and its partners opportunities to share their messages about the importance of preparedness. Foremost among these efforts was to lay out the most important steps that people in hurricane-prone areas can take before any storms are actually on the radar: in particular, know your evacuation plan; stock up on food, water and supplies; ensure your home and family are adequately insured; strengthen your home against high winds and waters; and help family members and neighbors prepare likewise.
There is also a push this year to shift the focus of public attention onto the specific hazards posed to individual communities and away from the general traits typically used to characterize tropical storms like the category or the track of the eye. "Those things can be useful to know, of course," but they're not necessarily predictors of how severe a storm's impacts will be on any given community, NHC director Rick Knabb told me on Tuesday.
I had the chance to sit down with Knabb, who is in his final week at NHC before he departs for an on-air position at the Weather Channel, to ask him more about the Hurricane Awareness Tour, the hurricane hunting fleet and tropical storm research, and his time as director of the NHC.
TO: What's the main goal of the Awareness Tour, and how have these sorts of events and public communication efforts changed during your tenure as director?
RK: The purpose of the Hurricane Awareness Tour is to encourage individuals, families and businesses to get themselves ready for the next hurricane. We've been doing these awareness tours for a long time and … we've been doing public outreach for decades. What we tried to do recently with National Hurricane Preparedness Week is merge it with the same week that the Hurricane Awareness Tour is happening; to take the Awareness Tour way beyond the cities where the planes land and make it a national week focused on what to do to get ready for the next hurricane, no matter where you live. The whole point of the aircraft being part of the tour is to bring children and families and the media to learn about what hurricane hunters do and to meet the pilots — that's the attraction of the event.
We wanted to, in a fun way and a productive way … get everyone talking about what to do to get ready in advance of the next hurricane and make that part of our culture in the United States. If I sit back and hope the hurricane doesn't come my way, I'm just wishing the problem away. That puts me in a position of weakness; I'm letting the hurricane that might hit my house dictate the outcome. If you have your evacuation plan, and you've got supplies, and you've got your insurance coverage, and your home is as strong as it can be, and you're helping out people who need help with those things, then you're in control of the outcome no matter what comes.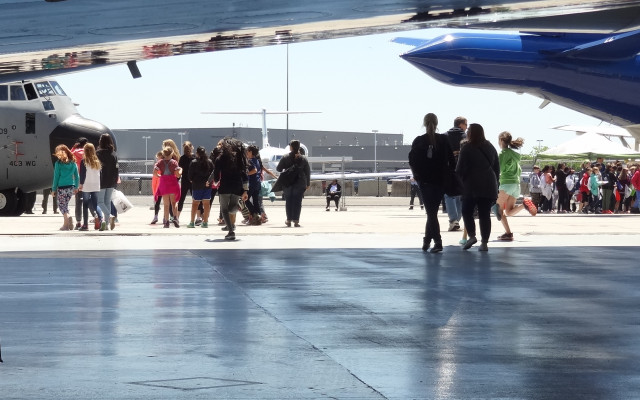 TO: Could you describe the roles of the aircraft in the hurricane hunting fleet?
RK: We have both NOAA and Air Force aircraft at our disposal during hurricane season. The NOAA fleet that we use for hurricanes involves two NOAA WP-3D aircraft that are flying laboratories that fly into the hurricanes and provide us data in real time. There's also the single NOAA G-IV jet, which flies around hurricanes and drops these parachute-borne instruments called dropsondes in the environment over the ocean around the hurricane. Those data go into the computer forecast models, and we've shown that much of the time those data help us make much more accurate forecasts of where the hurricane is going to go. On the Air Force side, they have a fleet of 10 hurricane hunter planes, the WC-130J aircraft. They're the operational workhorses — they fly into everything from a wannabe tropical depression, something that's trying to form in the first place, all the way up to Category-5 hurricanes. And the closer the hurricanes get to land, the more frequently they fly. We're so fortunate in this part of the world to have routine [storm] reconnaissance from NOAA and the Air Force. A lot of other parts of the world have to rely on estimates from satellites. We're using the best available technology to make the most accurate forecasts and warnings that we can, so that people know what's coming and what they need to do. There really is a direct connection between what these planes do and your personal safety.
TO: Has our ability to forecast tropical storms advanced in recent years?
RK: The last couple decades, we've cut in half the forecast errors for [storm] tracks. We've made far less progress with intensity forecasting, with pretty much [consistent] performance the last couple decades. But recently there have been some glimmers of hope and optimism that we can start lessening, on average, the intensity forecast errors as well. Some of that progress is ongoing because we have the Hurricane Forecast Improvement Program, HFIP.
TO: In addition to manned flights, NOAA has used unmanned aircraft for storm research and reconnaissance. How do you see the balance in the use of manned and unmanned aircraft for playing out in the future?
RK: I'm pretty confident that for the foreseeable future, [unmanned aircraft] are not going to replace the heavy, manned aircraft that fly into and around hurricanes. But the manned and the unmanned platforms each have advantages that we can utilize, and using a combination of both going forward is probably going to be the ideal. We are keeping engaged with the folks developing those [unmanned] technologies, and utilizing them, but the operational bread-and-butter for hurricane forecasting and warning is the heavy, manned aircraft. One of the big advantages of the manned aircraft is that we can send them exactly where we need them to go, exactly when we need them to be there. The unmanned aircraft can't do all of that yet.
TO: The hurricane season of 2012, the year you started as director at the NHC, turned out to be an eventful season. How was that first season at the helm and how did it shape your time there?
RK: Like every hurricane season, and like every individual hurricane, 2012 provided unique challenges. [Hurricane] Isaac was challenging because it was going into the same general area that Katrina impacted [in 2005], but it had its own DNA, and even though it wasn't as strong as Katrina, it flooded parts of the northern Gulf Coast that Katrina didn't. A lesson learned from comparing Isaac and Katrina is that you've got to keep your eye on this hurricane that's coming at you and not rest on what your experience was in a past hurricane to tell you what's going to happen this time.
Of course, later that year was Sandy, which was a major hurricane in the Caribbean before losing its tropical characteristics as it came into the Mid-Atlantic and Northeast. We made a lot of changes after that to give us flexibility to issue advisories, and to maintain or issue hurricane watches and warnings, even when a system is no longer tropical. And we utilized those options during 2016 with Hermine and Matthew when both of those storms became post-tropical. This is part of focusing on the individual hazards [of storms], no matter what their meteorological definition is. Another new thing for this year is the option to issue advisories even before [a system] is a depression or storm when it's trying to form near land. The bottom line is we are now more focused on the hazards, both during the event and well in advance.

TO: What stands out most when you reflect on your time at the NHC?
RK: As the end of my five years as director approaches, I am most gratified by the partnerships that have led to a lot of innovation and brought us forward in terms of how we are communicating hurricane hazards in real time. All the new products and warnings that I'm very much looking forward to talking about on television in my next job are the result of a lot of people contributing and providing their feedback. We have, I think, changed the conversation to focus more on individual hazards … to really understand how wind or water or both could affect your community where you live, and to know what to do about that.
Listen to more from Rick Knabb from NOAA's 2017 Hurricane Awareness Tour stop in Washington, D.C., on May 9, 2017, as he outlines steps that people can take to prepare in advance of hurricane season: