Bare Earth Elements: GSA highlights, day 1
by Timothy Oleson Monday, November 5, 2012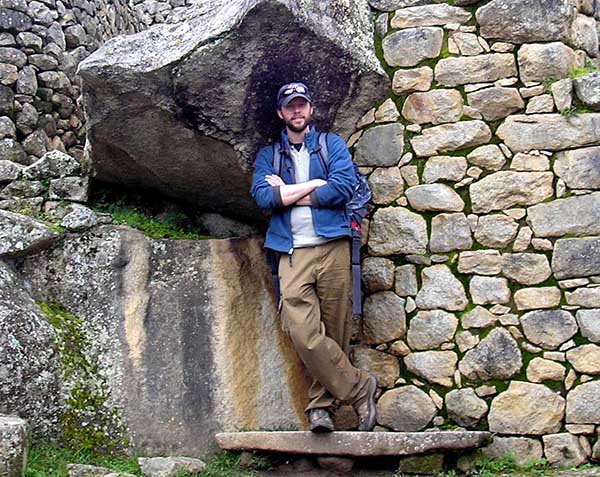 CHARLOTTE, N.C. — EARTH's Tim Oleson is in Charlotte this week for the Geological Society of America's (GSA) annual conference. He'll be blogging about interesting talks and activities he attends, so keep checking back to get the scoop. You can also follow the action by following @earthmagazine on Twitter.
GSA's annual conference got under way in earnest on Sunday with the start of technical sessions, poster displays and more. With major sessions focusing on sea-level rise and anthropogenic effects on the natural landscape, our interaction with Earth and with the climate was already sure to be a big theme.
Oh, Sandy
In the recent wake of Hurricane/Superstorm Sandy, however, the tone of these discussions seemed to take on a heightened sense of urgency with some speakers. This sense was echoed by Sunday's marquee speaker, Bill McKibben, the Schumann Distinguished Scholar in the Environmental Studies program at Middlebury College in Vermont. He is the driving force behind the grassroots climate action organization 350.org and the recipient of the GSA President's Medal for 2012.
Not surprisingly, the journalist-turned-admitted advocate McKibben used his opportunity at the podium — in front of an audience of several hundred — to expound primarily on the recent efforts of his organization, 350.org, to raise awareness about climate change and combat what he calls the most significant threat humans have ever faced. In his view, efforts so far have been too small-scale to substantially, and in a timely way, alter the fate that scientists have predicted — for example, rising sea levels that threaten vast and vulnerable coastal populations and increasing incidents of extreme weather for which humans are ill prepared. Outfitting your home to be more energy efficient and sending climate scientists to Capitol Hill year after year to testify in front of legislators, admirable as they may be, are simply not enough, he said.
He highlighted 350.org's attempts to pressure governments to institute more systemic changes by mobilizing the masses and making use of what he termed alternative currencies: the passion and force of many individuals organized behind a common guiding idea. In this case, that common idea is a common guiding number — 350, the chosen goal level to which atmospheric levels of carbon dioxide (in parts per million) should be returned lest the planet face dire consequences. (Naturally, there is a great amount of debate about the validity of this number for making such an ominous proclamation. The point of course in selecting the value, McKibben acknowledged, was not so much for its singular significance as a climate indicator, but in providing a tangible mechanism around which people could rally. The current atmospheric carbon dioxide concentration is about 390 parts per million, according to NOAA.)
McKibben vividly recounted his group's earliest effort, the so-called International Day of Climate Action in October 2009, the point of which was simply to show off to whatever powers were watching the geographic and socioeconomic diversity, as well as the sheer numbers, of people interested in his movement. In the end, thousands of separate demonstrations reportedly took place in about 180 countries. He spoke of the group's recent attempts to block the controversial extension of TransCanada's Keystone XL pipeline through the U.S. — an effort that has pitted him against both Republicans and Democrats. And he spoke briefly about a new campaign aimed at pressing universities and others to divest themselves of their investments in the oil companies.
Although specifically acknowledging and addressing the assembled crowd of geoscientists, his message was more populist than scientific. It's an approach that has certainly earned him many critics, but also many followers. (He wryly, but proudly, recounted how the editor of Rolling Stone called him up after the publication of a recent feature he'd written for the magazine. It turned out, the editor told him, that his piece had fared substantially better — as counted by the number of "Likes" it received — on Rolling Stone's Facebook page than the cover story about Justin Bieber.) Whatever your feelings about McKibben's politics and his methods, it's tough to argue that he isn't a charismatic speaker and leader. He certainly proved that again at GSA.
Rising Seas
University of Colorado geologist Bill Hay spoke about predictions of future sea-level rise, posing the question of whether current estimates could be too low. The answer in short, he suggested, is yes. And the explanation, it seems, is that there are many positive feedback loops that affect ice melting that haven't previously been accounted for in attempts to forecast rising seas.
Among the feedbacks he described was how large glaciers not only hold their water by being frozen, but also through gravity. In other words, the mass of the glacier is large enough to exert an extra pull on the water it contains. When glaciers melt due to warming, however, they shrink and thus lose a fraction of their gravitational pull, meaning that melting is further exacerbated, Hay explained. It's a seemingly small effect that can have big effects if you're talking about Greenland's glacial cap or the Antarctic ice shelves and sheets.
The "Pristine Myth"
When did man really start altering the ground beneath our feet in North America? This was the question addressed by Allan James, a geomorphologist at the University of South Carolina, in his talk during a session entitled "Geomorphology of the Anthropocene." The long-standing conventional idea, James said, has been that it wasn't until Europeans arrived and colonized the New World that soils really began to be altered. This is the so-called "Pristine Myth Paradox," which imagines native, or pre-Columbian, populations living in gentile harmony with their environments. But this has been challenged of late by researchers arguing that the large native populations in certain areas (the Mayans, for example, whose particular effects on the Yucatan Peninsula were discussed by Tim Beach of Georgetown University in a subsequent talk in the same session) and the intensifying agricultural practices of these populations surely must have had dramatic impacts on soils.
James seemed to suggest that the answer lies somewhere in between. Whereas many pre-Columbian peoples did engage in widespread agriculture, clearing land and sowing crops, they had not developed the modern technology — wheeled carts and iron-tipped plows, for example — that, along with the use of heavy draught animals, allowed European settlers to churn up the ground to such a significant extent. Thus, the impact native peoples had, in general and with certain exceptions (again, the Mayans, for example), were predominantly on their surrounding ecology and vegetation rather than on soils and the shape of the landscape.
A Tribute to Clarence Dutton
In the realm of famous American geologists, Clarence Dutton arguably holds his own beside giants like John Newberry, James Dwight Dana and John Wesley Powell. In an entertaining session on the history and philosophy of geology, Ken Aalto of Humboldt State University took the opportunity to offer an abridged biography of the great Dutton, a Yale-educated Civil War veteran who went on to an illustrious geological career.
Among his accomplishments, Aalto recounted, Dutton mapped and described in detail the Grand Canyon and areas of Utah, Colorado and New Mexico. From this work, he wrote a much-celebrated monograph entitled "Tertiary History of the Grand Canyon District" that would come to be praised by novelist Wallace Stegner as a great literary work. Dutton also developed in a more quantitative manner the principle of isostasy — the relationship between the density of different rocks and their relative buoyancy in the crust.
In 1886, Dutton led a U.S. Geological Survey effort to study the Great Charleston earthquake, which was felt over a huge area — about 2.5 million square miles — and caused an estimated $5 million (in 1886 dollars) in damage. In the talk following Aalto's, Pradeep Talwani of the University of South Carolina described this earthquake in more detail, and discussed how the report produced by Dutton and his colleagues would come to revolutionize the field of seismology. Not only did it represent one of the most comprehensive attempts to study and map the earthquakes impacts, Talwani said, but it led to improvements in the estimation of earthquake focal depths, it provided the most accurate determination of seismic wave velocities at the time, and it led to the deployment of seismographs in the country.\