Ash vs. airplanes
by Mary Caperton Morton Friday, March 24, 2017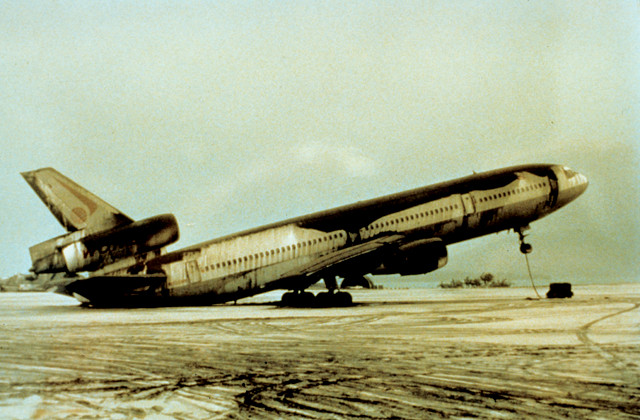 Between 1953 and 2009,* there were 129 reported incidents of airplane-ash encounters, with 79 of those causing some degree of airframe or engine damage. Twenty-six involved significant or severe damage, and nine involved some degree of engine shutdown during flight. Most of the encounters occurred within 24 hours of the onset of ash production during an eruption and within 1,000 kilometers of the source volcano. All flights landed safely.
Of the 38 confirmed source volcanoes, eight — including Augustine, Redoubt, and Mount St. Helens in the United States; Chaitén in Chile; Pacaya in Guatemala; Pinatubo in the Philippines; Sakurajima in Japan; and Soufrière Hills in Montserrat — have caused five or more incidents. Some notable incidents are summarized below.
In 1980, during the Mount St. Helens eruption, a military plane flew through an ash cloud 100 kilometers from the volcano for four minutes and sustained enough damage to necessitate shutting down two of its engines and prompting an emergency landing. The incident led to significant airspace closures until the plume dissipated.
In 1982, a commercial passenger jet flying from Malaysia to Australia flew into an ash cloud produced by an eruption from Indonesia's Mount Galunggung, causing all four of the aircraft's engines to fail. The crew was able to glide the plane out of the ash cloud, restart three engines and make a safe emergency landing in Jakarta. Three weeks later, another passenger jet encountered ash from Galunggung, which stalled three of its engines. Both incidents occurred in low-visibility conditions at night.
In 1989, a commercial airliner bound from Amsterdam to Anchorage flew through an ash cloud from Mount Redoubt in Alaska. The ash shut down all four engines and forced an emergency landing in Anchorage. The engines had to be replaced, totaling more than $80 million in damages ($230 million in today's dollars).
In 2001, a passenger jet flying more than 500 kilometers from the Soufrière Hills eruption plume lost power in one engine, but landed safely. The eruption covered parts of Puerto Rico and Montserrat with several millimeters of ash and forced the temporary closure of the international airport in San Juan.
In 2006, a twin-engine business jet flying over Papua New Guinea lost power in both its engines, though the crew was able to restart them and land safely. Both of the aircraft's fuel-flow regulators, it was later found, were clogged with volcanic ash from a small, low-altitude eruption at the Manam Volcano on the north coast of the island.
In 2014, two eruptions at the Kelut and Sangeang Api volcanoes in Indonesia disrupted flights to and from Australia. One passenger jet was damaged when it encountered Kelut's ash plume — the presence of which had not yet been relayed to the crew — and was forced to divert quickly out of the cloud.