Around the world in the Solar Taxi
by Carolyn Gramling Thursday, January 5, 2012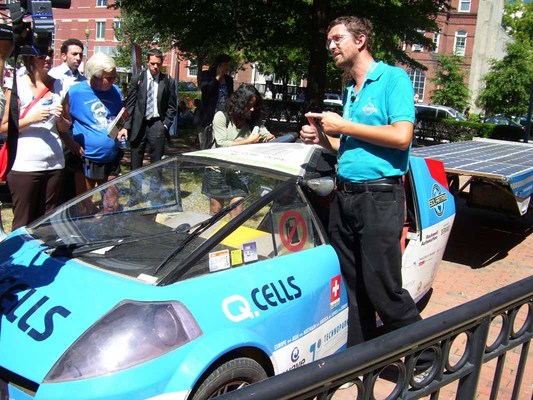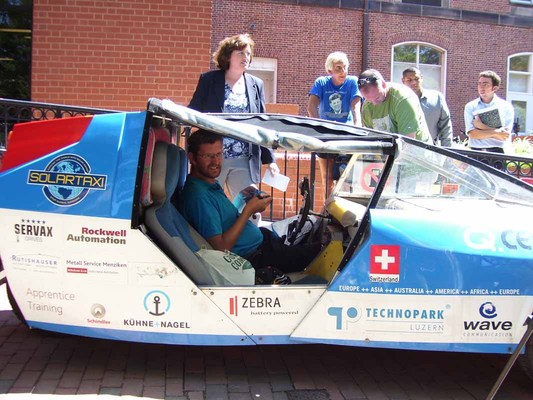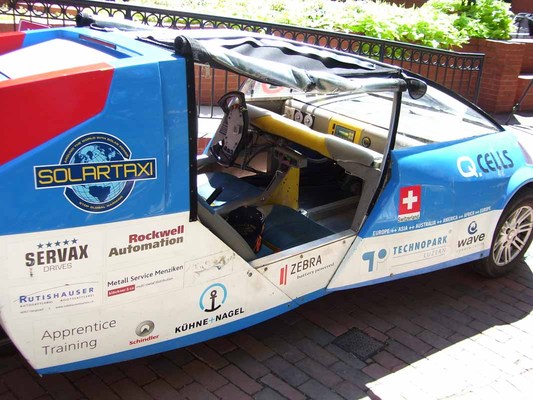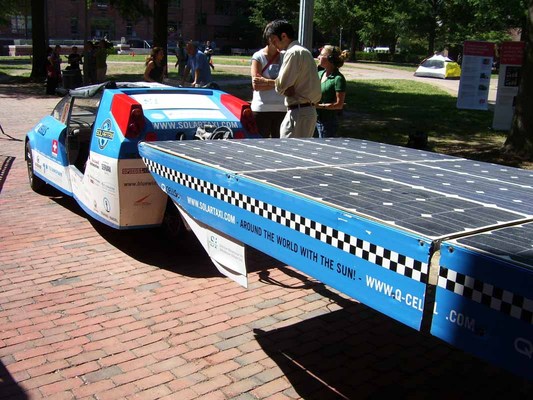 We can build it. We have the technology.
One thing you can say about the Solar Taxi is that it's eye-catching. I showed pictures of it from a press conference Wednesday to my co-worker. "Hey, I saw that on the street this morning and wondered what it was," she says. "That's the solar car?"
Yep. And as cars go, I have to say that it isn't especially impressive-looking. With three wheels, two seats, plastic zip-down sheets for windows/doors and no air conditioning, the vehicle looks a bit more like a hybrid stock car/pedicab hitched to a trailer than a sleek car of the future.
But hey, the Solar Taxi was never meant to be a prototype for mass production, as driver and "tour director" Louis Palmer says (often). It's just meant as a PR stunt and to make a point: that the technology to create such a vehicle — that uses only the power of the sun — already exists. ("The sun is shining for free," Palmer says). And considering where this car has been so far, it is pretty impressive.
Palmer, a Swiss schoolteacher, has, in previous adventures, explored Africa by bike, South America by tiny airplane and Asia by regular gasoline-powered car. But in 2004, he came up with the idea to create a solar-powered car — no additional power sources whatsoever — and drive it all the way around the world to spread a message of hope about the present status — not just the future promise — of alternative fuel technologies.
To make his dream happen, he enlisted the help of university researchers and a solar cell manufacturer to design the car and its nine-square-meter trailer bed of solar cells. Those cells provide enough electricity, he says, to power the car for up to 100 kilometers a day — or 15,000 kilometers a year. To drive further in a day, he can charge the battery with an additional source of solar power (there's a plant set up on a rooftop in Bern, Switzerland — obviously not accessible during the world tour, though).
Since he embarked on his sun-power trip in July 2007, Palmer has traveled more than 43,000 kilometers, rolled through dozens of countries and talked with umpteen people. Among the more famous folks he's taken for a spin are: Jay Leno, who drove around Burbank, Calif., for three hours; and his favorite guest, Rajendra Pachauri, the 2007 Nobel Peace prize winner and chairman of the Intergovernmental Panel on Climate Change.
Most eminent guest who didn't get to take a ride: Al Gore (scheduling conflicts).
Least eminent guest, who did: a drunk hitchhiker who hopped into the car to help Palmer with directions.
And I went for a ride, too. As we trundled slowly down the traffic- and construction-choked streets of northwest Washington, D.C., we got nowhere near the car's top speed of about 90 kilometers per hour (55 miles per hour). Which was fine: the car could use some better shock absorbers. But it's basically a pretty comfortable ride and there's plenty of legroom and even a radio, which is good because Palmer says he sometimes spends up to eight hours a day in the car.
So I ask him: Once the tour officially ends in December, what next? Will he drive the Solar Taxi to work or the grocery store? "Sure — it's my car," he says. "I drive it around the city." But as for going back to work — maybe not right away, anyway. "I don't know what kind of emotions I'll have" when the tour is finished, he says. "I'm tired. Maybe I'll take a vacation."
But there are still a few months to go. And despite his long, exhausting trip, Palmer remains committed to his underlying cause: to spread the word that alternative fuel technology is already here. And to get people interested and excited about it.
It seems to be working. As I sit in the car with him, curious passersby walk up to ask what the heck is going on and to examine the ungainly-looking car. Then they ask, tentatively, if maybe they could possibly go for a spin too?
Palmer hesitates. He's got a meeting this afternoon with D.C. lawmakers, and then another meeting tomorrow on the Hill, with whichever congressmen are still in the District during the session break. The next day he's off to New York, then to Montreal, then back across the Atlantic to Africa and finally on to Europe and the final leg of his journey. He's tired.
But then he smiles at the requester. "Sure, why not?"