The Arctic is open for research
by Piper Lewis Monday, July 6, 2015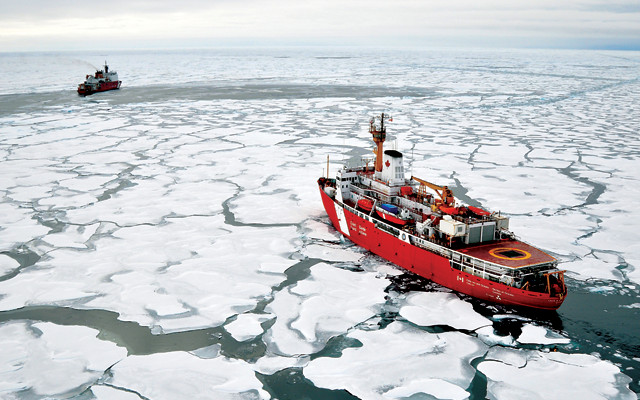 "Science knows no boundaries, and the issues that the Arctic region faces require high-quality, trans-disciplinary and problem-based research, something which cannot be accomplished solely at the national level." So stated Annu Jylhä-Pyykönen, Finland's Head of Delegation to the Arctic Council's Task Force for Enhancing Scientific Cooperation (SCTF) in an interview published on the Arctic Council's website in March 2015.
With an eye toward cooperation, the Arctic Council — a group of eight Arctic nations including the U.S., Canada, Denmark, Finland, Iceland, Norway, Russia and Sweden — created the SCTF in 2013. The SCTF works to give scientists access to scientific infrastructure, support international exchange of data, and simplify the movement of scientists and their equipment in the Arctic. One project the SCTF is currently working on is creating a legally binding agreement on international scientific cooperation among the eight Arctic states.
And interest in Arctic research goes beyond just those states. "The Arctic is somewhat like the Antarctic, and also the open ocean: It is shared by a number of countries, and many countries that are not technically Arctic, such as China and Korea, are still quite interested in sharing knowledge, resources and understanding of how things are changing in the Arctic system," says Lee Cooper, an oceanographer at the University of Maryland's Center for Environmental Science who often works in the Arctic.
It is "quite expensive to sail icebreakers into the Arctic, so when we manage to work together with other countries, we have opportunities to reduce costs for each individual country," Cooper says. "By working across international boundaries, we can often accomplish more."
To be a leading Arctic nation, particularly as the U.S. assumed a two-year chairmanship of the Arctic Council in April 2015, and to continue important scientific research in the Arctic, the U.S. needs icebreakers, Senator Lisa Murkowski (R-Alaska) explained at the Consortium for Ocean Leadership Arctic Science Forum in March 2015.
Of the Arctic Council nations, Russia is leading the pack in terms of icebreakers. The U.S. currently has two federally owned icebreakers (and two privately owned ones). Finland and Sweden both have four government-run icebreakers, and Canada has six. Denmark has four privately operated icebreakers, Norway has one government-run icebreaker with another in the planning stage, and Iceland has none.
Russia, meanwhile, has 15 operational government-run icebreakers and 21 privately owned icebreakers. And the Russian government is currently expanding both its nuclear and conventional Arctic-grade icebreaker fleets with 11 new icebreakers under construction or in planning stages. Scientists at Russia's Central Scientific Research Institute have been working on innovative icebreaker technology. Schwabe Holding, a Russian company within the government-run Rostec Corporation, will begin testing laser ice-cutting technology to enhance their icebreakers.
Despite the benefits of cooperation in the Arctic, the willingness of countries to share their fleets only goes so far. While scientists may conduct joint missions on foreign icebreakers, national security still requires a U.S. military presence in the Arctic that foreign vessels cannot provide.